By Mark Pettus
publisher@floridanewsline.com
As I prepared to leave the office on my way to attend the Alhambra's production of "Disney's Beauty and the Beast," I wasn't sure what version to be prepared for. The classic French fairy tale has been translated to film, television and the stage more than a dozen times.
I was most familiar with the 1980s television series of the same name starring a pre-Hellboy  Ron Perlman and pre-Terminator Linda Hamilton. As a father of daughters I was also passingly familiar with the animated Disney version of the fairy tale, upon which the play is based.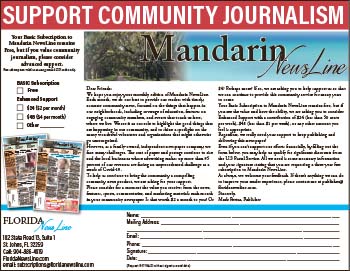 The soundtrack is more familiar. Indeed the last thing a coworker said to me as I walked out the door was that "it won't be the same without Angela Lansbury." She was wrong.
"Disney's Beauty and the Beast" is a miracle of animation brought to life on the Alhambra stage. Producer and Director Tod Booth's gift for casting is on display from the beginning with Peter Joshua as the bitter and angst-ridden Beast and Emily Stokes as Belle.
Joshua brings a needed gravitas to the Beast, possibly the most important and difficult-to-portray character in the play. Stokes – and her voice – are both worthy of the name (Belle means beautiful in French) and she matches the dark beast in strength and tempers his darkness with mixture of brightness and vulnerability.
Broadway alum Tony Lawson is a deliciously smarmy Gaston and is a big part of bringing the magic of the animated version to life. Lawson was an original member of Beauty and the Beast's U.S. National Tour and animates his too-good-looking cartoonish character with with perfectly overlapped ego and evil.
Alhambra regular Lisa Valdini's Mrs. Potts poured out the show's most famous tunes.  Valdini, who was the voice of Winn Dixie for a dozen years and hosted shows on HGTV and DIY Network, channeled Angela Lansbury while singing lead on "Beauty and the Beast" and "Be Our Guest."
Best-of-show nods must go to Brian Beach's performance as Lumiere. The lustful candelabra-cursed French footman begs for an over-the-top performance and Beach obliges with lots of luscious ooh-la-las and bawdy body language. He was so much fun to watch if he had been a one man show, I would have gladly sat through an encore
"Beauty and the Beast" is an absolutely delightful show that is equally entertaining to kids, adults raised on the animated Disney feature and everyone else. It continues nightly at the Alhambra Dinner Theatre through July 31. Visit www.alhambrajax.com to reserve tickets.
Photo courtesy Alhambra Dinner Theatre.
Cast of "Disney's Beauty and the Beast" at Alhambra Dinner Theatre.