By NewsLine Staff
mail@floridanewsline.com
St. Johns County has experienced record-breaking growth over the past couple of years and with that growth, opened a new high school on the east side of Interstate 95, Beachside High School, on Aug. 15, 2022. Despite being brand new, the Beachside Barracudas' swim team, the swimmers, the coaches, and the parents jumped right in to assist and help build the success of the program.
The 2022 – 23 inaugural swim and dive team is made up of swimmers at all different skill levels, aged 14 – 17. There are no seniors this year as the first graduating class will be in 2024. The swim team consists of 28 swimmers — 21 female swimmers and seven male swimmers.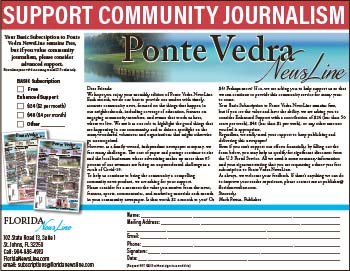 This small but mighty swim team performed above and beyond throughout the season at a local 2A level. The Beachside Barracudas went on to compete at the 2A Districts competition in Gainesville with all seven male swimmers competing, along with 12 female swimmers and one diver. Beachside walked away with the girls' 200 Medley Relay championship and the 200 Free Relay championship with Haylee Hite, Gina Faunce, Kyra Lagatoris, and freshman Reese Boswell leading the way to an overall second place girls' finish. Other notable finishes include: Boys' 400 Free Relay – third place; Boys' 200 Medley Relay – second place; Nico Garvey – third place, 50 Free; Peter Manelis – Champion, 100 Breaststroke; Reese Boswell – third place, 100 Back; Gina Faunce – second place, 100 Back; Haylee Hite – Champion, 100 Back and Champion, 200 IM; Olivia Riegler – Champion, Diving.
The next stop was the Regionals 2A in Pensacola at the University of West Florida campus. The Barracudas swimmers competed with 17 swimmers and one diver and finished with:
Hite, second place, 200 IM
Hite, champion, 100 Back
Riegler, third place, diving
As the season concluded, the Barracudas attended the 2A State competition in Stuart with the team bringing an impressive nine swimmers and one diver that included two relay teams and four individual event contenders. The Beachside Barracudas came home with medal-placing finishes:
Manelis, second place, 100 Breastroke and second place, 100 Butterfly
Hite, fifth place, 100 Back and sixth place, 200 IM
Riegler, second place, diving
The Beachside Barracuda swim team is under the supervision of Coach Lauren Huss and Cyro Tavares. These gifted athletes have made the school proud while adding to the trophy collection now featured at the school.
Photo courtesy Glory Faunce
Haylee Hite and Gina Faunce with the District trophy