By Captain David Lifka
mail@floridanewsline.com
We are now reaching the months of fishing uncertainty. Fortunately, this is a relatively short season in comparison to the many months of great fishing that exist throughout the year.
With heavy recent rains up and down the St. Johns River, and cooler temperature upon us, many of our favorite saltwater species have retreated to warmer, saltier waters for the winter. This doesn't mean the river is now fishless; plenty of fish will still be around docks and pilings. Anglers should be able to go out and find reds, drum, and even a few stripers when conditions are right.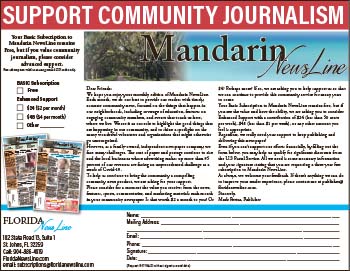 If freshwater species happen to be your specialty, then the next couple of months just might be your favorite time of year to hit the water. Winter months usually offer some of the best pan fishing of the year, especially if the panfish happens to be the speckled perch, also known as the black crappie.
Arguably the best table fare of Florida's freshwater fish, speckled perch will begin to congregate from shorelines to channels and points for pre-spawn preparation. Heavy feeding is needed prior to the spawn to provide the energy needed for the spawn to take place. Limiting-out on "specks" in the one- to three-pound range during this time is very common. Area creeks starting at Durbin and following the river south, and nearby lakes from Palatka to Gainesville, all offer some of the finest speck fishing in the state.
We have also reached the "restocking" time of year on our seasonal fishing calendar. While fishing time on the water may have slowed, time in the stores or online will most likely be on the increase. Actually, it works out pretty well. Putting together a holiday list of tackle needs or finding tackle gifts for friends and family is time well spent when fishing is a little on the slow side.
Regardless of your fishing knowledge, shopping for the angler in your life should not be hard to do. Fishing has come a long way from being just a rods and reels, and hooks and sinkers activity. Entire clothing lines are dedicated to fishing, along with shoes, sunglasses, electronics, and hats and caps. Any of these ideas should be great additions to the anglers in your life, and if nothing else, there is the never-failing gift certificate.
Fishing Report: Speckled perch should be the best bite happening in coming weeks. Remember to check for new fishing regulations that should be coming out (once again) the first of the year.
If you catch one, some or none, the family time spent fishing will last a lifetime.

Photo courtesy David Vaughn
Dawson Vaughn of Julington Creek Plantation and Creekside High School caught this slot sized red along with approximately 10 others late this summer in Sisters Creek.