By Captain David Lifka
mail@floridanewsline.com
Just like birds and people, many species of fish head south for the winter. Also, just like birds and people, these many species of fish make Florida their final winter destination. And finally, just like birds and people, the further south these fish decide to travel, the more crowded their final destination becomes.
As many areas of South Florida's populations seem to double with the arrival of winter visitors, many may not realize that what's happening on land is also happening at sea. As a matter of fact while much of our North Florida fishing season comes to peak over summer, much of South Florida's fishing peaks over the winter.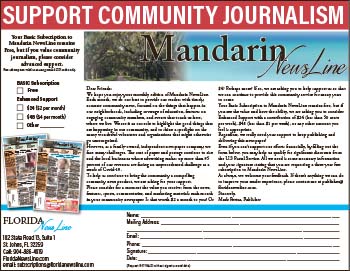 Fishing our areas of North Florida over the winter can often be hit and miss, and sometimes even be flat out difficult depending on the weather. With a narrower list of species to target, often winter days fishing are spent with thoughts of spring, and the soon-to-be onslaught of springtime fishing. Just in case anyone has forgotten, we live in Florida — the Fishing Capital of the World! We don't have to wait for spring to happen here.
With more than 7,700 lakes, 10,500 miles of rivers, and 2,276 miles of tidal shoreline, there is always someplace to fish nearby in Florida. Because we live in Florida, just a two or three hour ride south, you can leave the hit and miss fishing and a cold winter day, and enjoy some spring-type weather and spring-type fishing. Add a couple more hours of travel time south, and more than likely you'll be able to enjoy some "feels like summer weather" and enjoy some "seems like summer" type fishing. Not only do you get to bring some fish back home to the fryer, you also just might get to bring back a little bit of sunburn for others to admire.
Fishing Report: Intracoastal speckled trout is always worth a try. Winter Speckled Perch (Crappie) fishing should be warming up in area lakes and creeks. Always give a pretty day a chance. Manatees have moved into area springs. Try Blue Springs State Park (Deland/Orange City) to see dozens at one time. Be sure to pack a picnic.
Whether you catch one, some, or none, the family time spent fishing will last a lifetime.
Photo courtesy Patty L. Powl
Grouper season runs through the end of December. This was Fruit Cove resident Patty L. Powl in December of last year in Steinhatchee, Fla. This grouper was caught on a boat called the Blue Diamond and the bait used was squid.