By Captain David Lifka
mail@floridanewsline.com
With water temps pushing eighty degrees,
Salinity levels are on the increase
And little shrimp are beginning to show
So fishing the St. Johns is beginning to grow.
Yes, summertime fishing has arrived,
So gather your gear and don't be deprived
Summertime fishing is finally here, and as always, is greeted with great expectations. As the summer progresses, we can only expect to see a steady increase in the variety, quality, and quantity of our fishing efforts.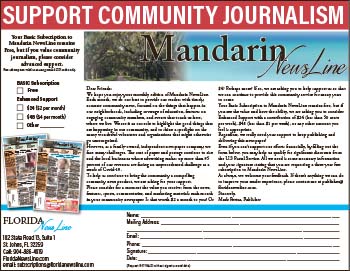 Current indicators are promising that we are off to a good start for this summer's fishing. A mild winter accompanied by less than normal rainfall has certainly contributed to this current outlook.
With juvenile shrimp starting to show throughout the river, we can now expect the larger species of the underwater food chain to be not that far behind. As summer progresses, the shrimp get larger as does the quantity and quality of the fish that feed on them. With the right weather conditions, late summer and early fall have the potential to provide as good fishing as nearly anywhere else in the state.
Almost certainly we can expect croaker, yellowmouth, redfish, flounder, black drum, seatrout, and sheepshead. If it's a really good year we could even see additional species such as mangrove snapper and even tarpon. Not bad for our local area of the St. Johns, which is considered from downtown Jacksonville to the Shands Bridge. Officially this area of the river is considered to be freshwater, but in reality it is brackish for most or all of the year.
The latter part of the summer season is looked upon with great expectation as the St. Johns River food chain is made complete by the above water feeders (that's us). Late July or early August is usually when we can expect our annual shrimp run to begin; sometimes lasting well into October, shrimping is a favorite activity for many. A good year shrimping could add up to a freezer full, while a slow year should still provide shrimp enough for bait.
Fishing Report: St. Johns croaker bite continues to warm up with reds showing around docks and pilings. Bonnethead sharks should be plentiful in the surf this time of year. They're smaller, harmless, easy and fun to catch. Should be a great time for the kids.
Whether you catch one, some or none, the family time spent fishing will last a lifetime.F
Email your Catch of the Month photo to catchofthemonthpictures@gmail.com. Be sure to include the name of the person(s) in the photo, the name of the person who took the photo, the type of fish and date and location of the catch. We will select a photo each month for publication.