By David Lifka
mail@floridanewsline.com
Have you ever noticed the crowds often fishing the banks at the Shands Bridge on State Road 16 and wonder what they are catching? On certain days people can be seen lined up almost elbow to elbow with fishing poles in hand. If you watch long enough you will probably get to see an angler hook up, battle and land this mystery fish, tossing it into their cooler and quickly casting out again.
This same fish is also known as a "local catch" favorite for many of the folks that live in Florida's Gulf Coast, Panhandle and inland communities. Locally this fish is often the main ingredient to a variety of tasty fish dip recipes that are served in homes and local restaurants.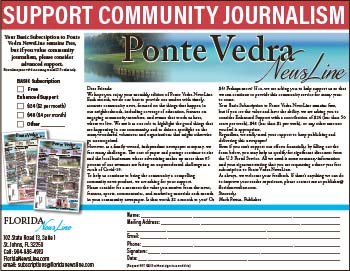 Harvesting of this fish in Florida dates backs to the 1600s with a current commercial harvest of over eight million pounds. The roe from this fish, often referred to as "poor man's caviar," becomes available each fall as the spawning season begins. Frying the roe from this fish to this day is still considered a delicacy by many old time Florida natives.
Chances are if you've been around any spring, creek, river or estuary that eventually finds its way to the ocean or gulf you have seen this fish jump out of the water. Known for its jumping, the vast majority of fish you may happen to see jump are this fish. Of course this fish is a mullet.
There are several ways to fish for mullet. Probably the most common way to catch mullet is with a cast net. Whether wading, walking a dock or throwing from a boat, stealthiness and patience while waiting for a school to get close enough for a throw will be the secret for your success.
Snagging or snatching is another way to catch mullet. Using a weighted treble hook or snatch hook to cast into schools of passing fish has been an effective practice for mullet fishermen for many years. Again, stealthiness and patience, along with some accurate casting are key for catching this easily spooked fish.
One more way to catch mullet is by rod and reel or cane pole using a hook with bait. Because mullet are herbivores, many anglers are unaware that mullet will take a hook and provide excellent game fish action on light tackle. Using half an earthworm for bait, hook the worm on a long shank No. 2 minnow hook with a split shot weight and a float. Fish your bait just off the bottom or about six inches below the surface for schooling fish. Chumming the area you are fishing with rabbit food pellets, chicken mash, or oatmeal bread balls will help attract the mullet. Any notice of fish-like activity being signaled by your bobber means it time to come back with a mild hook set and enjoy the fight.
Fishing Report: Early fall means some of the best fishing for the year on the St. Johns. Many varieties of saltwater species are peaking. Drum, redfish, seatrout and weakfish are to be expected at normal drops, bars, docks and pilings.
Whether you catch one, some, or none, the family time spent fishing will last a lifetime.