By Master Gardener Volunteer Lesley Arrandale
mail@floridanewsline.com
The wildflower garden in my front yard is shaping up quite nicely. As expected, a few of the original plants haven't survived and some have sown themselves around, as if to make up for the losses. Since volunteer plants seem to do well where they find themselves, I'll only move any that are in awkward places and try to find those alternative homes. I also have some small plants that I've grown from seed, but because the sun has been so harsh I'm waiting till the weather moderates before planting them out, and I'll wait on moving the volunteers too.
Now is a good time to consider possible tweaks to a garden or landscape. Plants can outgrow their spaces and pruning is not always the solution. For instance, some perennials can form sizable clumps after a few years and can be divided to produce two or more new plants. This technique is known as division (see https://bit.ly/3bPeDp2 and https://bit.ly/3Ptak0a). As long as a plant has a spreading root system and does not grow from a single stem, it is likely a candidate for division.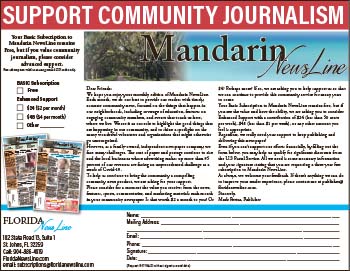 So many natural areas around town are being swallowed up by new developments and the wildlife is left homeless — but individuals can make a real contribution to help support wildlife. Planning our plantings in "layers," from the ground up to the tree canopy, we can make our yards into sanctuaries. Beginning at the ground level, leaves and natural mulch like pine straw should form the basis of our ecosystem or habitat. Ground dwelling invertebrates like worms and other little "creepy crawlies" — a term from my childhood — are among the creatures that transform dead plant matter into rich soil: the foundation. From there on up, add ground cover plants, perennials and sub shrubs, large shrubs, and small trees. If, and only if, you have the space, a larger tree would complete the picture. There's no need to dwarf a small property when smaller trees could supply shelter and food. These are the classic elements of garden design. For information on Florida-Friendly design, including how to cater to wildlife by incorporating native plants, please see https://bit.ly/3QKBBMA. For more articles on gardening with wildlife check out https://bit.ly/3SRNz8W.
One aim for the sustainability minded is to avoid invasive plants. My bugbear is cat's claw vine (Dolichandra unguis-cati), a vine that can envelop the tallest tree. It produces beautiful yellow tubular flowers, which is the other problem: the long lightweight seed pods are blown far and wide and the seeds germinate readily. Once established they grow fast, and their underground tubers make them hard to pull out. Check out https://bit.ly/3STKPbw for more information. But this is not the only invasive vine we have to deal with. For more information see https://bit.ly/3zUsFxq.
As the summer wears out its welcome, it's time to plan the fall vegetable garden. Don't be too quick to get things growing outside though. We are still looking at heat into October at least (https://bit.ly/3zSxOGp), and those wonderful salads and other leafy vegetables can rapidly bolt in hot weather. 
The following classes will also be held in September: Sept. 7 and 10: Fall Vegetable Seed Starting Workshop: https://www.eventbrite.com/e/fall-vegetable-seed-starting-workshop-tickets-384638593387?aff=ebdssbdestsearch. Sept. 6: Tips for the season: http://events.jaxpubliclibrary.org/event/6872925. Sept. 14: How to Water Your Landscape and Lawn: http://events.jaxpubliclibrary.org/event/6717612.
Master Gardener Volunteers are available to take your questions Monday to Friday, 9 a.m. – 12 p.m. and 12:30 p.m. – 3:30 p.m. at (904) 255 7450, or email duval@ifas.ufl.edu. If you would like to receive our newsletter in your inbox, just let us know.