By NewsLine Staff
mail@floridanewsline.com
The 16th annual Giving Tree initiative will occur from Nov. 1 to Dec. 2. The wishes of clients from 41 non-profit organizations in St. Johns County serving Elderly, Veterans, Homeless, Abused, Children, and Animals are printed onto holiday wish tags. The wish tags and posters are displayed in participating businesses, schools and organizations throughout the county.
The donations placed in the collection boxes are then sorted and provided to the non-profit organizations for the holidays. Monetary donations are used to purchase wish items that were not donated.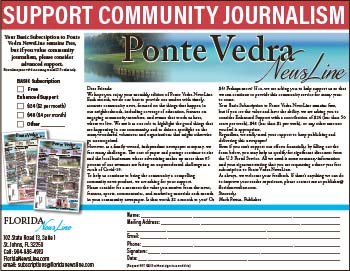 Over the years the generosity of the community during the Giving Tree drive has been so appreciated by the receiving organizations and has made a significant impact on their clients. Now as much as at any time, so many people are in need.
Donation boxes with posters will be displayed at the host sites. A list of participating host sites is available at www.stjohnscares.org. Monetary donations can also be made on the website.
Contact president@stjohnscares.org with any questions.
Photo courtesy St. Johns CARES
Giving Tree display in 2021.