By St. Johns County Supervisor of Elections Vicky Oakes
Have you visited www.votesjc.gov lately? We launched a new website in May with a focus on transparency, streamlined navigation, and efficient service delivery. Our new site is designed to assist residents, voters, candidates and elected officials in quickly accessing relevant and timely information regarding a variety of election related topics. It's informative, easy to navigate, and will ensure voters and those running for office have convenient access to the information they need to participate in the democratic process. If you haven't seen it — check it out!
Have you received your 2022 Citizens Guide to Registering and Voting in your mailbox? The guide was mailed to every residential mailbox in St. Johns County at the end of May to help residents prepare for the 2022 elections. The publication is especially important this year as many changes have occurred since the last election in 2020. Due to the 2020 census and the redistricting process, voting districts, precinct lines, and some election day polling locations have changed. The 2022 Citizens Guide to Registering and Voting also serves as pre-notification of the new voter information cards that are being mailed to all registered voters in the county in early June. If you missed the guide, its available on our website at www.votesjc.gov. It's important reading, and worth your time.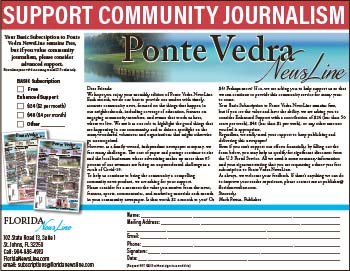 Now that the precinct lines and polling places have been finalized for the 2022 elections, new voter information cards will go in the mail the first week of June. Be sure to watch for yours. Your new voter card will replace any other voter cards you have received in the past. When voting in person, you do not need to bring your card. Instead, you must present current and valid photo and signature ID, or you will be required to vote a provisional ballot.
The election season is upon us. Candidates running for office this year must file their qualifying documents with our office or the Division of Elections in Tallahassee by noon on June 17. Once the noon deadline passes, the ballot will be set for the primary election and our staff will move forward with programming the election. The first vote-by-mail ballots go in the mail on July 9. Curious as to who is running for office? Visit our website for up-to-date election information on the upcoming Aug. 23 primary election.
Readers can contact me at the office by calling (904) 823-2238 or emailing me at voakes@votesjc.gov. Our website also has a wealth of information, and a signup form for our newsletter.