By Larry Figart
mail@floridanewsline.com
Now that Hurricane Matthew has passed St. Johns County and Jacksonville, the clean up begins. Here are some general safety tips for cleaning up after a hurricane:
Do not work alone. Clean up is dangerous; always work with a partner.
Assemble a well-stocked first-aid kit. Learn how to use it and keep it nearby.
Avoid overexertion, which is the most common cause for injury. Avoid lifting more than 50 pounds and remember to lift with your legs and not your back.
Homeowners are sometimes seriously injured trying to do their own tree work. It is always a good idea to consult a professional before undertaking any major restoration or removal. Professional tree workers are required by law to wear personal protective equipment like a hard hat, gloves, goggles, chaps and appropriate footwear. If you decide to do some of the clean up yourself, remember to follow these guidelines: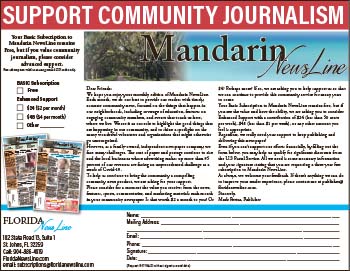 Do not use a chain saw if you are not experienced in operating one or if you are not physically fit.
If you must use a chain saw, work only on the ground.
Never do any tree work that involves felling trees, climbing of any kind, or using ropes. Get a professional to help you in these situations.
Source: "Cleaning up after a hurricane: Safety comes first!" University of Florida Publication #FOR115. Visit http://edis.ifas.ufl.edu/pdffiles/FR/FR17000.pdf for more information.
Larry Figart is an Urban Forestry Extension Agent with UF/IFAS Extension Duval County.
Photo by Shelley Howard.