By NewsLine Staff
mail@floridanewsline.com
The St. Johns County School Board voted to name retired Deputy Superintendent for Operations Tim Forson as the next superintendent of the St. Johns County School District. The five school board members voted unanimously and Forson will succeed Superintendent Dr. Joseph Joyner on Jan. 4, 2017.
Board members cited Forson as the best qualified and most suited candidate to further the success achieved during Dr. Joyner's tenure. Forson's 36 years with the school district, proven leadership skills, varied curriculum and operations experience, and familiarity with the school district and community were also touted.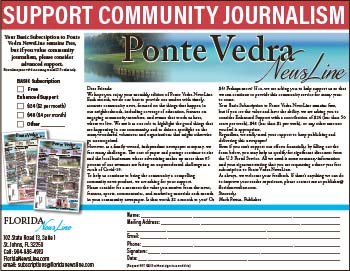 School Board Chair Patrick Canan led the superintendent search process for the board.
"I knew this would be the single most important decision we would make together as a board, and I appreciate the work of the Florida School Boards Association and Assistant Superintendent Martha Mickler as they assisted us through the steps," said Canan. "This proved a difficult decision as I felt as though we were in a win-win situation in choosing between Dr. Vickie Cartwright and Mr. Forson. In the end Mr. Forson has the familiarity and trust of the community coupled with the confidence from the board which made him the perfect choice to continue the excellence under Dr. Joyner's leadership."  
"Tim is a superior leader and an even better person," said Dr. Joyner. "His integrity and character have made him one of my most trusted advisors. His commitment to this district gives me great pride and I am honored to have worked with him for almost 14 years."
Forson led the St. Johns County School District Facilities and Operations Department for 10 years until his retirement in May of this year. During that time the district implemented an energy management program that has produced a $36 million cost avoidance in utility expenses. The Operations Department also implemented an energy management system for all facilities that improved building performance and efficiency.
Prior to serving as a district administrator, Forson was the principal at Bartram Trail High School during a time of unprecedented growth. Bartram Trail was an "A" school during his tenure and he fostered the development of both accelerated academic program offerings and career academies. He also served as principal of Mill Creek Elementary School for six years where he helped to transition it from a predominantly rural school to a school serving a growing community of new families.
Forson has been a lifelong resident of St. Johns County beginning his career as a secondary social studies teacher and coach. He was recognized as St. Johns County Social Studies Teacher of the Year in 1992. He also was awarded Principal of the Year in 2005 and went on to become a state finalist for this honor. He attended school locally at St. Joseph Academy and later received his bachelor's degree from the University of Central Florida and his master's degree from Nova Southeastern University.
His wife, Janice, has been an educator in St. Johns County for more than 25 years and presently works as an instructional coach for pre-kindergarten teachers in the county. The Forsons have been married for 38 years and have four children.
Visit www.stjohns.k12.fl.us for more information on the superintendent search process and timeline.
Photo courtesy St. Johns County School District