By NewsLine Staff
mail@floridanewsline.com
When the warm weather beckons, people are apt to spend more time enjoying the great outdoors. Many people also are less likely to prepare heavy meals when the weather warms up. That's why salads and summer are such a perfect match.
Salads can be made with whichever ingredients home chefs prefer or have on hand. What better way to maximize the summer season than by incorporating summer berries into the salad mix? In this recipe for "Blueberry Spinach Salad with Grilled Chicken" from "Cooking Light: Fresh Food Superfast" (Oxmoor House) from the Editors of Cooking Light, iron, folate, vitamins, and rich antioxidants combine to create a light, tasty meal that's perfect for summer evenings.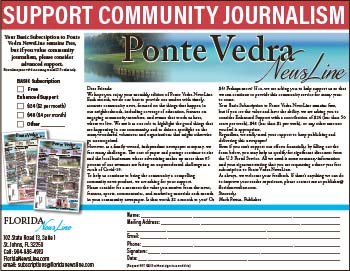 Blueberry Spinach Salad with Grilled Chicken
(Makes 4 servings)
3 6-oz. skinless, boneless chicken breast halves
Cooking spray
1 6-oz. package fresh baby spinach
1 cup crumbled goat cheese
1 cup blueberries, optional
Blueberry-Thyme Dressing
(Makes 5 servings)
1 cup blueberries
2 tbsp. lemon juice
2 tbsp. extra-virgin olive oil
2 tbsp. honey
2 tsp. chopped fresh thyme
½ tsp. salt
Place all ingredients in a blender; process for 30 seconds or until smooth. 
Place chicken breasts in a medium bowl. Add ⅓ cup dressing, toss to coat.
Heat a nonstick grill pan over medium-high heat. Coat pan with cooking spray. Add chicken mixture to pan; cook 5 minutes on each side, or until desired degree of doneness. Let chicken stand 3 minutes before cutting crosswise into ½ inch slices. Cover and keep warm.
While chicken cooks, place 1 ½ cups spinach on each of four plates. Top salads evenly with chicken slices; sprinkle evenly with goat cheese and, if desired, blueberries. Drizzle evenly with remaining dressing.
Photo courtesy MetroCreative