By Melissa Cooper
mail@floridanewsline.com
September means football season is back! What better game time snack is there than chicken wings? This creative variation will wow your family with its play on the Southern dish chicken and waffles. Don't forget the maple syrup to finish off this delicious appetizer. Go Jaguars!
Chicken & Waffles Wings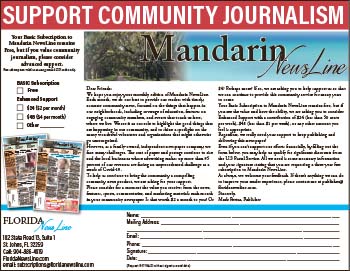 24 chicken wings — drumettes only
Salt and pepper
1 cup Bisquick® baking mix
½ cup milk
1 egg
½ lb bacon, cooked and chopped
½ cup hot sauce
¼ cup pure maple syrup
¼ cup melted butter
Pure maple syrup, for drizzling
Vegetable oil, for frying
Heat vegetable oil to 350 degrees. Pat wings dry and liberally season with salt and pepper. Fry the wings in 2 or 3 batches (depending on the size of your fryer) for about 10 minutes each batch, until chicken is cooked through.
Meanwhile, make the batter by mixing the Bisquick with the milk and egg, and then fold in the cooked bacon pieces. In a separate bowl, make the sauce by mixing together the hot sauce with the maple syrup and melted butter.
Preheat your waffle iron. Toss the cooked wings in the sauce, then hold a drumette by the end and dip it into the batter to very lightly coat. Place drumette onto hot waffle iron and press it down a bit to help that nice waffle pattern sear in.
Serve the wings hot with a drizzle of real maple syrup.