By NewsLine Staff
mail@floridanewsline.com
Waiting for bananas to ripen for baking can try anyone's patience. Laurie McNamara, author of "Simply Scratch: 120 Wholesome Homemade Recipes Made Easy" (Avery), admits she doesn't have the patience for bananas to brown and that roasting them in the oven speeds up the process. That process is on display in McNamara's recipe for "Roasted Banana Coffee Cake," which makes a great addition to breakfast tables and brunches.
Roasted Banana Coffee Cake
Serves 8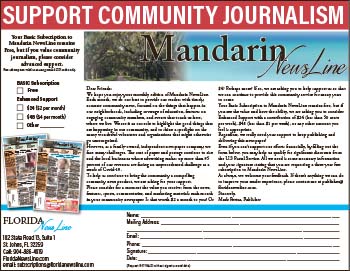 8 tbsp. (1 stick) unsalted butter, melted and cooled, plus 1 tbsp. at room temperature for the pan
2 tbsp. granulated sugar
2 bananas
¾ cup chopped pecans
3 tbsp. dark brown sugar
1 tsp. ground cinnamon
1 ½ cups unbleached all-purpose flour
1 tsp. baking soda
1 tsp. baking powder
¼ teaspoon freshly grated nutmeg
1 cup granulated sugar
2 large eggs, lightly beaten
¼ cup sour cream
1 tsp. pure vanilla extract
Preheat the oven to 350 F. Butter a 9-inch round cake pan with the 1 tablespoon room temperature butter and dust with the granulated sugar and tip out any excess.
Place the bananas on a small rimmed baking sheet and roast for 15 minutes. Remove and set aside to cool.
In a small bowl, combine the pecans, brown sugar and cinnamon. Set aside. Sift the flour, baking soda, baking powder, and nutmeg through a fine-mesh strainer into a medium bowl.
In the bowl of a stand mixer fitted with the paddle attachment, beat together the butter and sugar on low speed until light and fluffy, 2 to 3 minutes. Add the eggs one at a time, mixing well after each addition. Scrape down the sides of the bowl with a spatula, then add the roasted bananas, sour cream and vanilla. Beat until incorporated. With the mixer running on low speed, spoon in the flour mixture and mix until just combined.
Pour the batter into the prepared pan and smooth the top with a spatula. Sprinkle evenly with the pecan topping. Bake for 40 to 45 minutes, or until a toothpick inserted into the center comes out clean with a few crumbs attached.
Let cool for 10 minutes before slicing and serving.
Photo courtesy MetroCreative
Roasted Banana Coffee Cake