Taco salad and summer go together
By Scott Stegmaier
mail@floridanewsline.com
Summertime for our family consists of three things: the pool, the beach and the grill. There are so many options when it comes to grilling. For us, we are a family that loves Mexican cuisine. You will find on our Instagram page many different dinner varieties. Every Tuesday in our house is "Taco" night. A favorite we enjoy is taco salads.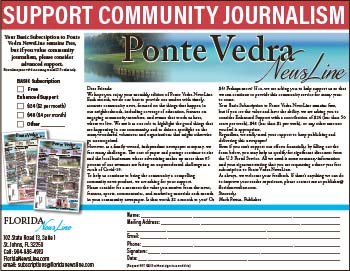 The possibilities are endless when creating this salad. We really like to make ours with grilled chicken, accompanied with an avocado ranch dressing. We incorporate many healthy vegetables too.
The kids are great helpers when it comes to preparing this meal. Although they are not old enough to be masters of the grill, they take control of several duties. From washing and drying the lettuce, to draining the black olives and black beans, to shredding the cheese and shucking the corn, to mixing the dressing, there is a job for everyone while dad tends to the grill.
This is a perfectly delicious summer salad. While not everyone may fancy grilled chicken on theirs, you can easily substitute grilled skirt steak, shrimp, pork or even fish. And for those who are vegans, grilled vegetables are always yummy too. Same with your dressing of choice as well — the possibilities are endless.
Here is how we prepare ours. We hope you will try it and enjoy it as much as we do.
Ingredients:
Lettuce
2 ears corn
Cucumber
Sliced black olives
Tomato
Green pepper
Sweet onion
2 cloves garlic
Lime
Cilantro
Jalapeño
Avocado
Extra virgin olive oil
Worcestershire sauce
Fajita seasoning
Black beans
1 lb. Monterey Jack cheese
Taco salad shells
Ranch dressing
2 lbs. chicken breasts
Directions:
Grilled chicken: season with a couple dashes of worcestershire sauce, fresh garlic, olive oil, lime zest and your favorite fajita seasoning. Marinate for 30 minutes. Grill each side of the chicken breasts for 15 minutes or until done.
Tomato salsa: Dice tomatoes, sweet onion, green pepper, garlic and jalapeño. Add a pinch of salt and pepper. Chop 1/3 cup of cilantro and add. Squeeze in fresh lime, olive oil and stir.
Corn: Wrap in foil and grill for 10 minutes.
Avocado Ranch Dressing: Simply mix chopped avocado and your favorite ranch dressing together lightly or vigorously.
Salad: Fill taco shell halfway with chopped lettuce. Add black beans, corn, cucumber and black olives each to a side of the shell. Place your sliced grilled chicken breast in the center. Shred Monterey Jack cheese on top of chicken. Top with tomato salsa. Spoon avocado ranch dressing to your liking and enjoy.
Follow Scott Stegmaier on Instagram @dinnerwiththestegmaiers
CUTLINE
Photo courtesy Edana Stegmaier