Q. Last month we covered your Property Fraud Alert program — how are the signups going? How big of a problem is property fraud in Florida?
A. We doubled the number of subscribers over the last few weeks, so we are getting the word out, thank you! Property fraud is when someone illegally uses your property for financial gain — for instance, someone recording a fraudulent deed, mortgage or lien against your property in the Official Records of the St. Johns County Clerk's Office. Two real-life examples have made news recently in Florida — a South Florida woman sold properties she didn't own in an elaborate scheme that defrauded 45 people across six counties, including Flagler, and an Oviedo man nearly lost his property to an identity thief who used a fraudulent deed to take possession of it. In the second case, it was the county comptroller's office that alerted him to the recording activity.
Our free property fraud alert service provides an early warning system for subscribers to take prompt action if they are notified of recording activity in their name. If you know you didn't record it and recognize it as fraudulent, you know to immediately contact law enforcement.
Our service is free, it's safe, and it's easy to sign up at https://apps.stjohnsclerk.com/Landmark/FraudAlert.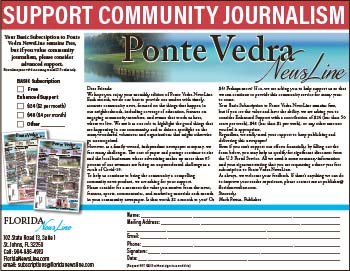 Q. You recently announced that St. Johns County received recognition for transparency and financial reporting for 29 consecutive years. Why is this a big deal for St. Johns County?
A. The Certificate of Achievement for Excellence in Financial Reporting is the gold standard for reporting, transparency and disclosure about the county's finances. To produce the required information for the auditor's review is a whole-of-government effort by county government and the five constitutional officers each year. The audit process is not easy or quick — it's kicked off in the first quarter of each fiscal year and requires a heavy lift from all agencies and entities. Nonetheless, the process and resulting report is critical to maintaining the public's trust in our stewardship of their tax dollars.
Q. It's been said that the Clerk and Comptroller's office performs more than a thousand functions and services. How can people learn more about what a clerk and comptroller does?
A. We are soon launching an informational newsletter so residents can learn more about their Clerk and Comptroller's office and the services we offer. Our goal is to be transparent, offer opportunities to access records and information, provide services to St. Johns County residents, and to make sure that we are meeting your needs. Sign up for our first newsletter at communications@stjohnsclerk.com. We do want to emphasize that if you receive the newsletter and aren't interested, know there is an easy opt-out. You can also email us and let us know what Clerk and Comptroller topics would be helpful to you, your family or your business.
Q: What is the best way for our readers to contact you or your office?
A: A lot of questions can be answered by visiting our website, www.stjohnsclerk.com. People can also call our main office at (904) 819-3600.