Q: Can you give us a wrap up of some of the interesting statistics from the recent 2020 election?
A: I'm really pleased with how smoothly things went here in St. Johns County. We had record Vote by Mail and Early Voting ballots; we actually went into Election Day, Nov. 3, at 71 percent voter turnout. When all was said and done, we had a voter turnout of 84.63 percent.
All year we had been planning for turnout of 85 – 90 percent and had staff and procedures in place for this. So we were prepared.
Q: Which precincts had the highest turnout?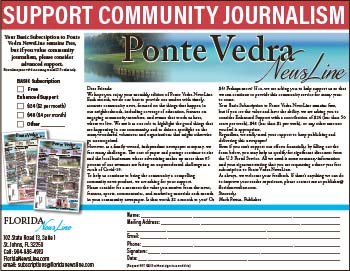 A: Even with the high turnout from Vote by Mail and Early Voting, we still had eight precincts that saw more than 1,000 voters on Election Day. As for overall turnout, the two precincts that had the highest were Crosswater Hall in Nocatee (93.5 percent) and Shearwater (91.9 percent.)
Q: It seemed that the state of Florida counted and reported results very quickly.
A: I am very thankful that the governor's Executive Order gave us the flexibility to begin counting Vote by Mail ballots even earlier than we normally do. Due to COVID, we had unprecedented interest in Vote by Mail. In St. Johns County, we mailed out 75,000 ballots by voter request and 57,661 were returned.
Q: What were some major events after Election Day for the Supervisor of Elections' office [as of interview date of Nov. 16]?
A: We certified the results on Nov. 13. This allowed for the 10 days for overseas ballots (that had to be postmarked by Election Day, Nov. 3) to be received and counted.
On Nov. 20, we will perform a public manual audit. This is something we do, as required by Florida law, after every election. We draw a random race and a random precinct then count all ballots to compare that total to the tabulated results. For every election in the past 15 years, we have been 100 percent accurate.
Q: Do you have anything else to share?
A: I am grateful for all the poll workers, both new ones and more experienced ones, especially during this time of COVID. We had a lot of people step up to help. Also, I'm thankful for my staff, including the part time seasonal workers. It takes many hands, lots of preparation and many long days to roll out a successful election.
Q: What is the best way for our readers to contact you?
A: Readers can email me at voakes@votesjc.com or call me at (904) 823-2238. Our website, www.votesjc.com also has a wealth of information.