By NewsLine Staff
mail@floridanewsline.com
Registration is underway for driver education classes offered at St. Johns County public high schools starting in August.
"Our driver education classes are as popular as ever, and we're thrilled so many want to make certain they are equipped with the knowledge, skills and confidence needed to be safe and successful drivers," said St. Johns County Tax Collector Dennis W. Hollingsworth, CFC.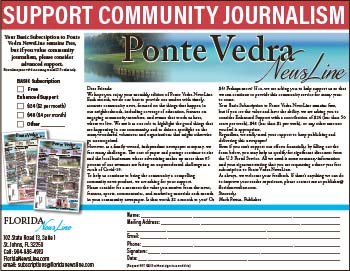 Schedules for the Phase I (Learner Permit class) and the Phase II (Behind-the-Wheel practical training experience) are posted online at www.sjctax.us.
There are four Phase I classes offered throughout the school year at each public high school in St. Johns County. The classes are held before school, from 8 a.m. – 9 a.m. for 12 consecutive school days. Students must be 14 ½ years of age when the course begins, and the written permit exam is given on the last day of class.
These classes are offered free of charge and are not part of the regular school day.
The fall class schedule for Phase II Behind-the-Wheel classes, Sessions 1-4, is also posted online. The 2017 spring and summer schedules will be posted online prior to the first day of school.
This 27-hour class takes place after school, and involves practical driving with a certified instructor on various types of roadways in St. Johns County, including Interstate 95. The cost is $300, and students must have at least 20 hours' driving experience before the first day of class.
Prior to driving, students will participate in a classroom session during which a refresher of basic road rules and safety measures will be addressed. Students will then be assessed on their skills on a closed course to determine readiness for driving on St. Johns County roadways.
Representatives of the St. Johns County Tax Collector's office Driver Education program will be present at the freshman and sophomore orientations at the public high schools to answer questions about the Learner Permit and Behind-the-Wheel programs.
Photo courtesy MetroCreative