By Geralyn Sachs
mail@floridanewsline.com
Four 4-H youth from St. Johns County competed in the 2016 State 4-H Horse Show, held July 6 – 9 in Tampa at the Florida State Fairgrounds. The State 4-H Horse Show consisted of 59 classes and six divisions which included Western, Hunt Seat, Saddle Seat, Speed and Ranch.
Qualifiers from five 4-H area horse shows across the state competed in a variety of events. St. Johns County was represented by Lauren Musil, who competed in the Hunter division and Amber Carlton, Maci Cerasale and Julianna Raimondi, who competed in the Western division. All four youth placed and exhibited good sportsmanship and horsemanship skills.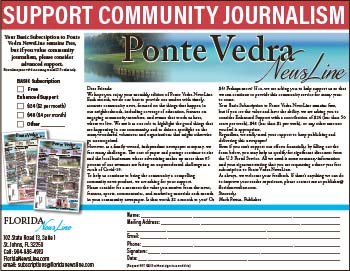 Musil and her horse Deonna (Rainbow's High Hand) placed third out of 26 in Jr. Hunter Hack, placed fifth out of 16 in Pony Working Hunter and placed eighth out of 24 in Pony Hunter Under Saddle.
Carlton and her horse Zippos Chocolatechip, placed seventh in Showmanship, placed sixth in Western Pleasure and placed 10th in Western Horsemanship.
Cerasale and her horse Sweetalltheway, placed seventh out of 15 in Halter and sixth out of 23 in Showmanship.
Raimondi and her horse Bulls Ms Three Bars, placed ninth in Junior Western Pleasure.
The St. Johns County 4-H horse program encourages youth riders to create a partnership with their horse and develop as a team. The 4-H program provides youth a variety of opportunities to enrich their knowledge of horses which include showing their horse or joining a horse judging, quiz bowl or hippology team. 4-H youth have opportunities at the county, area, state and national level to demonstrate their abilities and knowledge in the equine project.
The Dreamcatchers Stables 4-H Club led by Bridgitte Cerasale and the Horse-i-nation 4-H Club led by Tina Sommers are active in many competitive events, community service projects and learning activities for youth who love horses. 4-H Clubs provide the opportunity for adult volunteers to work with youth in developing life skills and leadership that promote independence, generosity, mastery and a sense of belonging.
4-H is a community of young people across America learning leadership, citizenship and life skills. As one of our nation's oldest, yet most current organizations, 4-H is reaching millions of young people with positive youth development opportunities.
The St. Johns County 4-H will hold a kick-off on Thursday, Aug. 25, 4 p.m. – 6 p.m. at the St. Johns County Extension Office, 3125 Agricultural Center Drive, St. Augustine. Enrollment into the St. Johns County 4-H Youth Development Program for the 2016-2017 4-H year begins on Aug. 18. The 4-H Program serves youth aged five – 18, as of Sept. 1. Visit http://stjohns.ifas.ufl.edu/4-H.shtml to enroll or call (904) 209-0430 to learn more about the St. Johns County 4-H program. Adult volunteers are always needed; call (904) 209-0430 for more information.
4-H and all programs and related activities sponsored for, or assisted by, the University of Florida/Institute of Food and Agricultural Sciences are open to all persons with non-discrimination with respect to race, creed, color, religion, age, disability, sex, sexual orientation, marital status, national origin, political opinions or affiliations.
Geralyn Sachs is a UF/IFAS/St. Johns County 4-H Extension Agent
Photos courtesy Geralyn Sachs
Diane Musil, Aryen Carucci, Lauren Musil (rider) and Tina Sommer at the 2016 State 4-H Horse Show.
   Amber Carlton with Zippos Chocolatechip
   Maci Cerasale with Sweet All The Way