By NewsLine Staff
mail@floridanewsline.com
In recognition of Best Practices in Workforce Excellence, St. Johns County Tax Collector Dennis W. Hollingsworth, CFC, accepted an award recently at the Florida Excellence Conference in Orlando.
The best practice implemented by Hollingsworth and his leadership team is an annual Employee Engagement Survey distributed to all staff at all St. Johns County Tax Collector locations. The survey was first distributed in 2011, and has evolved to become an insightful tool to guide the organization in its performance improvement efforts. Fewer than 10 percent of Florida tax collectors utilize an employee survey to guide office operations.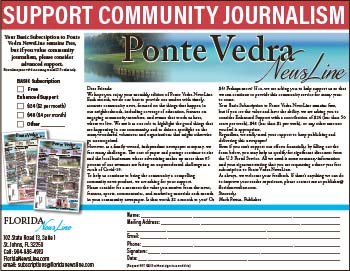 "After winning the 2015 Florida Customer Service Excellence Award, we as a team shifted our focus to our internal customers – our workforce," Hollingsworth said. "We couldn't provide world-class service if it wasn't for this amazing team who constantly strive to exceed customer expectations in all they do."
The Employee Engagement Survey not only provides an opportunity for staff to honestly express their comments and suggestions in a confidential manner; but also, the survey provides leadership a valuable tool for strategic planning.
"Since 2011, responses to this survey have guided our strategic planning efforts, particularly in process improvement and efficiency," Hollingsworth said. "We have been able to fulfill short-term needs expressed in the survey, and plan accordingly for the future by ascertaining how best to accommodate staff's desires to cross-train and learn office operations. At first the uncertainty was daunting, but the results have made the perceived 'risk' worth it."
Hollingsworth and his team have been utilizing the criteria set forth in the nationally-recognized Malcolm S. Baldrige performance improvement standards to guide office operations since 2009.
Photo courtesy St. Johns County Tax Collector's Office