By Debi Lander
mail@floridanewsline.com
When envisioning South Florida, Miami's South Beach, Art Deco style architecture and an enticing food scene come to mind. Always exciting, but I chose to visit Fort Lauderdale. It's less crowded, carries a similar vibe, and sits just 45 minutes away. Many think of Fort Lauderdale as a party-haven for college students on spring break, but it is also known as the Yachting Capital of the World. The 165-mile network of boat canals crosses the area earns it the nickname, the Venice of America. More than 100 marinas berth some of the largest mega yachts.
Even if you aren't invited on one of those, you may yet embark — on a cruise from Fort Lauderdale's Port Everglades, which ranks as one of the top three cruise ports in the world. It's always a good idea to arrive a day early, so I offer a few suggestions of places to visit and things to do.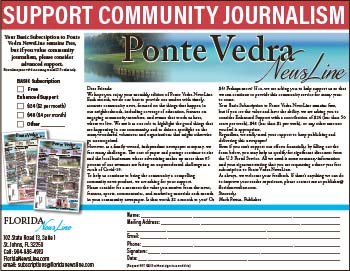 To get an authentic feel for the city, hop aboard the water taxi. Pleasing water views of the homes and canals accompany an informative narration about the history of the stunning area. Get off at one of the canal-side restaurants (I loved Shooters), then hop back on with your day pass.
Don't miss driving along Las Olas Boulevard, home to many jaw-dropping mansions and 17 blocks of upscale shopping, sidewalk cafes and nightlife. Make reservations to dine in the rear courtyard at Louis Bossie, an Italian eatery whose magical outdoor setting mesmerizes, especially at sunset.
Shoppers might pop into the New River Fine Art Gallery to gaze upon some original modern art or famous artists' works from the past. I was told that browsers are welcome, even those that can't afford anything. The shop owners encourage everyone to gain an appreciation for visual art. Besides, it's fun to imagine where you might hang or place a piece in your home.
North on A1A, but hidden off the highway, you'll find the Bonnet House, a historic home now managed by the Florida Trust. Anyone interested in history or gardening should not miss this unexpected gem built in the 1920s. Eclectic artists Frederic and Evelyn Bartlett embellished the 1930s beachfront estate. Their family left the property, brimming with a bounty of colorful art, to the state in 1983. Today's docent-led tour provides fascinating insights into the era. I could have stayed for hours roaming the orchid house, hibiscus gardens and nature trails.
While visiting, I stayed at the centrally located W Fort Lauderdale Hotel and Spa on Beach Boulevard. The posh resort shines bright and airy after a recent $55 million renovation. The living room style lobby feels welcoming and comfortable. It's also a great place to dine, enjoy cocktails or just people watch. My favorite hangout, however, was the hotel's street-level Mexican themed restaurant, named El Vez.
The Hugh Taylor Birch State Park, just off the ocean, provides one of the calmest and picturesque kayaking spots ever. One moment you might be lying on the beach and less than five minutes later, paddling a kayak or paddleboard among mangroves. The 180-acre park offers greenery-lined biking, jogging and walking trails.
I can't forget to mention Fort Lauderdale's famous seven miles of beach, or 23 miles if you add the Greater Fort Lauderdale area. Whether you want to take a stroll in the sand, spend a day sunning, or merely enjoy the view from the drive, this beach is one of Florida's finest.
Travelers find the Fort Lauderdale-Hollywood Airport easy to navigate and convenient to Port Everglades, as well as the beach. A drive to Fort Lauderdale from Jacksonville takes you about five hours.
Visit www.bylandersea.com to read more of local travel writer Debi Lander's stories and travel tips.
Photo courtesy Debi Lander
House along canal