By Debi Lander
mail@floridanewsline.com
Most envision the Sahara Desert as an endless expanse of sand dunes. That's how I imagined Morocco, a country on the northwestern edge of Africa. But, to my surprise, I found rolling hills similar to Tuscany, beach towns full of surfers, jagged snow-topped mountains, and modern cities with skyscrapers. I passed date palms growing in oases, many miles of olive groves, ancient mudbrick casbahs (forts), Roman ruins (a World Heritage site), goats in Argan trees, and a town painted blue.
I arrived in Casablanca, the business capital, and insisted on visiting Rick's Café (from the movie "Casablanca"). Another surprise: the classic film was not shot in Morocco. Still, Rick's bar and restaurant live on, piano player and all. The other not to be missed site is the Hassan II Mosque, the largest and most ornate in the country and the only one open to non-Muslims.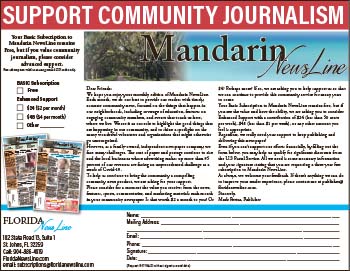 Many professional artisans live and work in Fes, Morocco's oldest city. Their fine ceramic ware, copper and tin pieces, loom-woven textiles, hand-made rugs, and leather goods become treasures. Watch them work in their studios and factories. Fortunately, springs of mint are supplied on entry to the odorous tannery where vast pots of acid soak animal hides. The narrow single file passageways in the immense old walled city boggle pedestrian movement, as does the occasional mule and cart.
Marrakech looms as both a modern and ancient city. You'll find hundreds of souks (shops) within its walls with vendors hacking their wares. I'd like to think the trinkets were made in Morocco, but that's not always the case. Buy the refined artisan products in Fes. In Marrakech, busy, crowded alleys eventually spill out onto the famous plaza. Exotic Jemaa el-Fna comes alive at night with street performers, dancing lights, and endless outdoor restaurants.
I found the Sahara Desert I expected in remote Merzouga. Travelers come to ride camels through the picturesque apricot-colored dunes. The soft sand feels like powder, but makes walking tiresome. Sit and watch the sunset, then let your camel transport you to an overnight tent camp. I stayed at one I'd rank five stars, a glamping experience with exquisite beds and linens, full bathrooms, and an atmospheric dining room. I could have stayed another night, but my itinerary called for me to move on.
Chefchaouen, or the Blue (on blue) City, is like no other. Houses, walls, walkways, and stairs are painted in dreamy hues of azure blue and sometimes white. Meander through the inviting warren of winding pathways clinging to a steep hill. It's easy to lose your breath and your way. Fortunately, plenty of shop owners and residents help you with directions.
Essaouira rests at the edge of the Atlantic, an essential port that attracts surfers and stand-up paddleboarders. Argan trees grow in the area, and you might see an Argan tree full of goats. The oil is used to produce creams and lotions.
Foodies adore spicy Moroccan cuisine. Tagine cooking (meat, vegetables, and spices slow-cooked in a ceramic bowl covered by a traditional dome-shaped lid) is the most popular. Couscous typically accompanies the dish. Cookies are served with sweet mint tea before dinner, and the meal ends with a bowl of fresh fruit.
Many riads, former large townhomes found in the old cities, were converted to boutique hotels. The exteriors have no windows, but you'll find plenty on the interior facing lush central courtyards. Riads are adorned in the Moroccan style of doorways and arches with intricate plasterwork looking like delicate lace.
I found Morocco majestic.
Visit www.bylandersea.com to read more of local travel writer Debi Lander's stories and travel tips.
Photo courtesy Debi Lander
Sahara Desert camel ride.