By Deidre Hicks
mail@floridanewsline.com
Through a series of job readiness workshops, the Mandarin Library helps prepare young adults ages 16 – 24 to enter the workforce.
The Mock Interview Workshop on May 11 at 4 p.m. focuses on what type of interview questions to expect and how to answer. During the Dress for Success Workshop on May 14 at 2 p.m., library staff will coach young adults how to look professional to impress prospective employers. All workshops cover the necessary skills to prepare for and to land a job, whether it's short-term summer employment or a permanent position.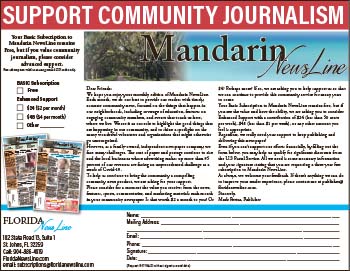 In June, job seekers ages 16 – 24 can put what they learned into action as they apply for positions at the Young Adult Job Fair on June 14 from 11 a.m. – 2 p.m. at the Main Library. Many prospective employers will be on hand to meet applicants and discuss their companies' job opportunities. For all of the details about workshops at other libraries and the Job Fair, visit jaxpubliclibrary.org/yajobfair.
Learn more about Mandarin's roots — orange roots that is — during the History of Mandarin's Orange Industry program on May 7 at 2 p.m. at South Mandarin Branch Library. Enjoy and sip lemonade as Billy Barwald, owner of Flying Dragon Citrus Nursery, provides all the details of Mandarin's citrus history during the late 19th and early 20th centuries. The Mandarin Museum will provide historical artifacts related to the orange production years.
May is Jewish American Heritage Month. David Foster, youth librarian at Mandarin Branch Library, is helping lead the Jewish American Heritage book discussion for all ages on May 17 at 7 p.m. Foster invites you to join the lively and interesting discussion of "The Red Tent" by Anita Diamant.
"We'll cross the Euphrates with Dinah, the protagonist of the novel," Foster said. "These formative years in the Fertile Crescent made a lasting impact on culture, helping to shape our civilization even millennia later. Seeing the world through Dinah's eyes opens up new vistas for the readers."

Find information about more upcoming events at Mandarin and South Mandarin branch libraries at jaxpubliclibrary.org/program.calendar or call the Mandarin Branch Library at (904) 262-5201 or the South Mandarin Branch Library at (904) 288-6385. To learn more about the Friends of the South Mandarin Branch Library, contact Ed Zoller at edzoller2@gmail.com.
Deidre Hicks is with the Jacksonville Public Library.

Photo courtesy Jacksonville Public Library
Walgreens representatives talk with prospective employees at the 2015 Young Adult Job Fair.