Flynn Houses, Part 1
By Brett Nolan
mail@floridanewsline.com
Sandy roads and a small, close-knit community was how one would describe Mandarin back in the day. What we now know as San Jose Boulevard was just a two lane road then. Today, the thought of taking a school wagon is crazy to imagine, but that was how Mandarinites rolled during the early 20th Century.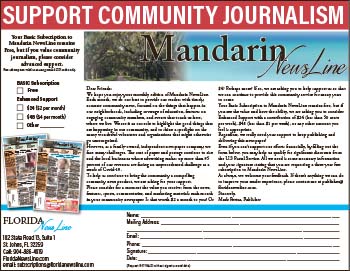 A structure tucked away at the intersection of Flynn and Loretto roads gives us a peek back in time and from 1909 to 1958 it was known as Flynn's General Store.
James J. Flynn, a descendant of one of Mandarin's pioneer families, and his wife Clara (Hartley), opened up a typical country general store there. Their house, built in 1906, is still standing two doors east. James's son, Theodore "T.J." Flynn, assisted his father with running the store. The store sold items from feed and fertilizer to produce and meat.
Before the creation of a bridge, our neighbors in St. Johns County used to row across the river, then walk two miles to get to Flynn's business. Theodore would commonly give these customers a ride back on the family's horse and wagon.
Theodore would also ride the wagon to retrieve store supplies from the steamboat "May Garner." Flynn's father would order gasoline in 55-gallon drums. Not only was Flynn's store the first feed and hardware store in the area, it was also the first to sell gas. Back then, 55 gallons would last the store 30 days, easily.
In fact, James owned the first Model T-Ford in Mandarin. Trimmed in brass, this vehicle was Mandarin's taxi — regularly taking folks who wished to travel by land to St. Augustine or Jacksonville. Theodore would ride with his father to South Jacksonville to buy a huge ice block, and with a nickel, the young Flynn would buy himself some ice cream.
In 1929, the original store burned to the ground. It was rebuilt and run by Clara and Theodore after the death of James in 1939. In 1946 Theodore bought it and ran it at this location until 1958, which is when he built a new store and home on San Jose Boulevard.
Look for Part 2 in the October issue of Mandarin NewsLine, featuring the Flynn store as most remember it in the mid-20th century.
(Author's Note: Most of the information was taken from previous news articles and quotes of Theodore Flynn.)
Brett Nolan is a volunteer with the Mandarin Museum & Historical Society., Visit www.mandarinmuseum.net for more information about Mandarin's history.
Photo courtesy Mandarin Museum & Historical Society
James Jefferson Flynn house, built in 1906.