By Eleanor Ruffes
mail@floridanewsline.com
Patty Magee is a veteran nurse and artist who piloted the Caring Art Program at Baptist Medical Center South in 2009. Since then, the program has blossomed into a Baptist Health-wide initiative that provides hundreds of patients with "a creative healing space and sanctuary," that is proven to boost physical and spiritual healing.
A nurse for 45 years with a studio art degree, Magee is currently pursuing a master's degree in art and medicine at University of Florida. Magee has always believed that art and medicine should be married as one complements the other. She started the Caring Art Program with the goal of "creating a healing environment for the patient. The program promotes wellness not only for the patient but also their family. We bring more meaning to their illness by creating a healing space and a creative sanctuary."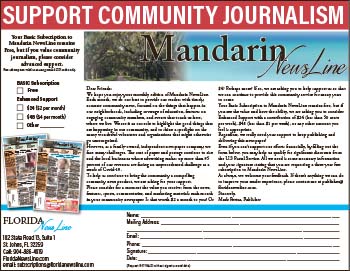 The Caring Art Program has multiple initiatives. First, Magee visits patients at their bedsides delivering art materials, creating and conversing with each individual. She does her best to tailor the experience to each patient's interests. Adult coloring books are very popular right now, but Magee provides patients with other items like knitting supplies, sewing kits, paints and paper.
Magee organized "Caring Kits" filled with art supplies that live in the "Family Retreat" on each floor of Baptist Medical Center South. These kits provide patients' families with creative outlets as they wait for news and recoveries.
"An idle mind is prone to worry," Magee said.
In fact, there is clinical evidence that supports the healing aspect of creativity — physically and spiritually. Magee's Caring Art Program is a direct reflection of Magee's evidence-based beliefs that artistic creativity can be used as an alternative pain management technique and has quantitative healing benefits. Baptist Health has fully embraced Magee's Caring Art Program, showing their institutional commitment to create a holistic healing environment for their patients.
Baptist Medical Center South also hosts Musical Mondays, a monthly musical performance that takes place in the main concourse and then individual floors and patient rooms. The showcase invites local musicians to perform and has been positively received by the community.
Magee said, "One of my favorite memories is of a mother holding up her newborn baby as she waited in the lobby as an instrumentalist played 'Somewhere Over The Rainbow.' I just thought, 'What a wonderful way to introduce your child into the world.'"
Initially met with skepticism, the program is now widely encouraged by doctors, fellow nurses, patients and families.  Magee sees patients arrive at the hospital with art supplies already packed in their suitcases.  But many patients are not yet aware of the health benefits of artistic creativity during their in- or outpatient stay. Because of this, Magee's Caring Art Program is so important.
The program welcomes donations from the public.
"We always need colored pencils — new ones! It is a joy to give a patient a new set of colored pencils with paper or an adult coloring book and see their face light up," Magee said.
Lastly, Baptist Medical Center South is home to five unique gallery spaces. Each exhibit space showcases art from local artists around Northeast Florida. The exhibits are rotated quarterly. Original art can be seen in various locations around the hospital, including the administrative offices, emergency room waiting area, and the library, for example. Magee invites local artists to submit their work to be displayed at the hospital. The artwork will hang for sale with Caring Art Program receiving 25 percent of the sale price as a donation.
"We provide excellent wall space that is seen by many artists. It is an incentive to be able to tell people you have an exhibit showing at Baptist South Hospital," Magee said.
"Land, Air, and Water" exhibit is now showing at Baptist Medical Center South. It includes relaxing pastoral scenes that reduce anxiety and produce calming effects.
Patty Magee provides Caring Art services at Baptist Medical Center South in all wards and at Baptist Downtown in the oncology inpatient and Agewell Outpatient wards. Magee can be contacted regarding donations, musical performances or artist exhibits at patty.magee@bmcjax.com or (904) 271-6968.
Photos courtesy Patty Magee
A current exhibit at Baptist Medical Center South that aims to increase awareness of mental illness.
   A recent piece by Patty Magee, "Trio Palms " in acrylic.