By Martie Thompson
editor@floridanewsline.com
Mandarin Lutheran Church members are pleased to offer a newly opened Baby Pantry, which strives to assist Jacksonville-area parents by providing baby care items such as diapers, wipes, bathing items, rash cream, and gently used clothing at no cost. This latest ministry of the church was the brainchild of Carol Gomez, who suggested the idea when the church's pastor, Anna Enderle, requested ministry suggestions from her congregation.
"I was passionate about starting a Baby Pantry," Gomez said. "I had looked for places like this in the Mandarin area and wasn't able to find any. The Food Bank may provide limited amounts of formula, but not other baby items."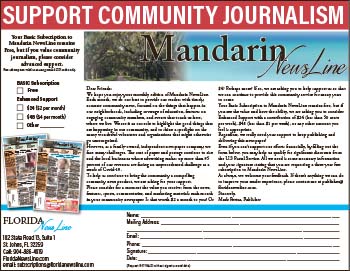 Gomez, who moved here from New York, said she became aware of Baby Pantries from a traveling youth ministry she was part of previously. She thought the idea had merit and is excited that her idea came to fruition, thanks to many donations received by congregation members as well as parents at Deerwood Academy, where she teaches three- and four-year-old preschool. The Baby Pantry is set up at Mandarin Lutheran Church in one of the Sunday School rooms that conveniently has a door directly to the outside parking lot.
"We have received lots of donations, but now are concentrating on getting the word out to parents who could benefit from the Baby Pantry," she said.
Gomez said the Baby Pantry is open on the first and third Sunday of each month from 10 a.m. – 12 p.m. or by appointment by calling the church office. Need is on the honor system as they are not asking for proof of income — but hope people will allow them to help as many people as possible. Families should bring proof of residency (driver's license, rental agreement) and proof that the child is officially in their care. Items are available on a first come, first served basis.
"I want to see us be there in times of desperation, when families think no one is there for them … we are here to help," Gomez said. 

Mandarin Lutheran Church is located at 11900 San Jose Blvd. Call the church office at (904) 268-4591 or email babypantry@mandarinlutheran.org for more information about donating or if you are in need of items for your baby.
Photo courtesy Carol Gomez
Gina List, Carol Gomez, and Pastor Anna Enderle at Mandarin Lutheran Church's Baby Pantry.