By NewsLine Staff
mail@floridanewsline.com
More than 50 Jacksonville-area youth represented the USA at international CISV (cisvjax.org) programs in 2022. CISV (cisv.org) is a global, nonprofit organization dedicated to educating and inspiring action for a more just and peaceful world. It helps its young participants develop to their full potential as future leaders and active citizens, to make a difference in their communities and the world. CISV (formerly known as Children's International Summer Villages) also gives them the opportunity to build global friendships and networks that last a lifetime.
Currently, CISV seeks mature, friendly kids aged nine to 18 to represent the USA at its international summer programs.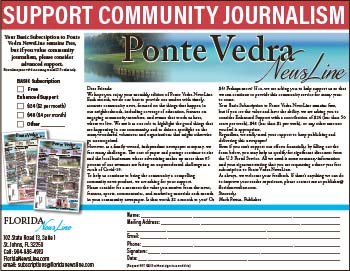 CISV's flagship program is called "Village." It brings together 10 and 11 year olds from 10 to 12 countries around the world for a month to learn to live cooperatively, share cultures and build global friendships.
Mandarin resident Kaia Roychowdhury, age 11, who represented the USA at international CISV programs this past summer at a Village in Massachusetts, said, "I was surprised by all the kids and how we all worked together in activities. The best part was being able to make lifelong friendships with those around the world."
CISV also offers a free, two-week overnight mini-Village for local Jacksonville kids called FACES of Jacksonville.
For 12 or 13 year olds, CISV offers eight or 15 day international youth meetings that bring together youth from eight countries to explore issues that affect us all.
Ponte Vedra resident Caroline Youell, age 12, spent eight days at a camp in the California redwood forests at a 2022 youth meeting. "My favorite memory was on the last night we were listening to music at a bonfire and were all holding hands looking at the stars and wishing it didn't have to end."
Another CISV program called "Interchange" offers Jacksonville families the chance to host a child from another country for two weeks and then their child goes to live with the family of the child the Jacksonville hosted for two weeks. Children have the chance to experience family life in another country and share their own community and home. In summer 2022, CISV Jacksonville held an Interchange with Graz, Austria for 14 – 15 year olds, which included seven Jacksonville families. St. Johns resident Chloe Geoghegan, age 15, said "My time as an Interchange Delegate was both other worldly and grounding. Traveling to another country without my parents, staying with a family I had only met over Zoom conferencing, and immersing myself in an unfamiliar culture, taught me to be resilient and open-minded. I feel like I have matured in such a short period of time. Most importantly, I made friendships that would've never happened if it wasn't for CISV. It reminds you everyone is human. It doesn't seem possible to change the world by 'just making friendships,' but I see it happening right before my eyes."
Youth aged 16 and 17 can apply for a 21-day international "Seminar" camp being held at locations around the world, a two week domestic "Fortnight" program, or to serve as a junior counselor at a free two week overnight camp for Jacksonville youth aged nine to 11.
Children aged nine to 12 are invited to the following "play dates" to see what CISV activities are like:
Saturday, Jan. 7 and Saturday, Jan. 21, 9 a.m. – 11:30 a.m., 7860 Southside Blvd. Jacksonville, FL 32256.
Parents and youth may learn more about CISV and its 2023 international leadership opportunities at upcoming CISV "101" informational sessions. Youth and adults who have participated in CISV's programs will share what it is like to make friends with people from around the world, explore cultural issues, and build their self-confidence and independence. Upcoming CISV 101 sessions are:
Saturday, Jan. 7 or Saturday, Jan. 21, 9:15 a.m. at 7860 Southside Blvd. Jacksonville, FL 32256
Sunday, Jan. 8, 5 p.m. at 1674 Osceola Street, Jacksonville, FL 32204
Saturday, Jan. 14, 10 a.m. via Zoom
Tuesday, Jan. 17, 8 p.m. via Zoom
Friday, Jan. 27, 7:15 p.m. at 860 Oak Street, Jacksonville, FL 32204
Visit https://jacksonville.cisvusa.org/news-events/events-calendar/attend-a-cisv-101/ to register for a CISV 101 meeting. More information about CISV is available at https://jacksonville.cisvusa.org or by email to cisvjax@gmail.com.
Photo courtesy CISV
Delegates to 2022 Italy Step Up return home.