By Angela Higginbotham
angela@floridanewsline.com
Grace Skinner grew up traveling a lot with her family because her father was in the Air Force. At 18 years old, Skinner made the move from Scotts Air Force Base in Illinois to Daytona Beach. She spent eight years in Daytona Beach before becoming a Jacksonville resident around 1998.
Her career led her to becoming a manager at Carrot Top, a former health food store in the Jacksonville area. It was there that Skinner learned about clean, natural food. She became passionate about researching holistic nutrition and food combining for optimal nutrition and digestion.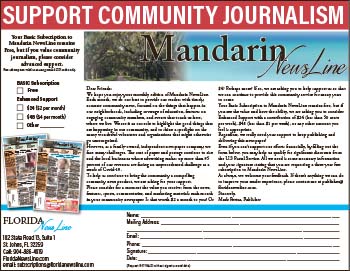 Skinner went on to become a licensed massage therapist and a certified personal trainer. She has worked in salons and spas offering deep tissue therapy, facials and other services. For the past 18 years, Skinner has worked for the San Jose Country Club members and also non-member guests. Epping Forest Yacht Club has also been a staple in her massage therapy career for 15 years.
Skinner has one daughter and four grandchildren who all reside in Peachtree City, Ga. Her father also moved to Jacksonville 20 years ago and her sister joined them here four years ago. Happy to have some family nearby and a career she is passionate about, Skinner is proud to call Mandarin home.
What do you enjoy most about living in Mandarin?
Mandarin is a very vibrant area. It's country in the city. I love the beauty and it's just a comfortable place to live.
What do you enjoy most about the work you do?
When I hear from or see people that I've had the pleasure of giving the advice and tools to that helped them become a more healthy version of themselves — that is the best thing. Giving people the tools empowers them to take control over their body. Education is the most important aspect of what I do. Education for myself that I pass it along to those that I work with. I love teaching others to pay attention to their body, their breathing, and also helping older adults with their balance and strength.
If you could give people one piece of advice as a first step in their journey to becoming more healthy, what would it be?
Start with food. Try to only shop the outer aisles of the grocery store for the meat, veggies and fruits and stay away from the processed foods. When you put good food into your body, you'll feel better and your mind will feel better, then you'll feel like exercising more. It all goes hand in hand.
What are your hobbies outside of work?
I enjoy organic gardening. I like to grow my own food and my garden is growing constantly. I was first inspired to have a garden when I was on a trip to Bosnia and Croatia. Everyone there has a beautiful garden with fresh vegetables on the table. I am having a squirrel problem right now, so I need to build something to protect my food plants. I have a carpenter friend that is actually from Bosnia that I am going to have build me a greenhouse or something else to protect the garden. I'm licensed by the Department of Agriculture for a nursery; I have a lot of plants. I also enjoy going to the gym, staying active in church and traveling.
If you could only have one food for the rest of your life, what would it be?
Fruit. I love all fruit. Pineapple, kiwi, oranges, mangos, melons, I can't choose just one. It's all natural sugar, so the body knows what to do with it.
Photo courtesy Grace Skinner
Grace Skinner