By Angela Higginbotham
angela@floridanewsline.com
Former high school sweethearts Travis and Kayla Hamilton enjoy living in the Mandarin neighborhood of Ramsgate. Originally from the small town of Auburn, Ind., Travis Hamilton joined the United States Navy a year after his high school graduation. Kayla Hamilton later moved to the Jacksonville area to be near him and to attend Florida State College at Jacksonville. After four deployments, mostly to Japan, the couple makes every effort to stay grounded and take nothing for granted. The Hamiltons now have two children, aged two and four years old. They are happy to be raising their children in the Mandarin area.
Kayla Hamilton answered these questions on behalf of the family: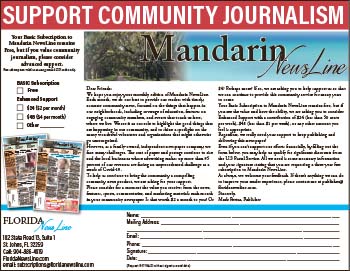 What's your favorite thing about living in Mandarin?
The family oriented atmosphere and the close knit community. The area is accessible to everything we need. It's a clean and safe place for families.
You decorated your home for your husband's latest return from deployment. Can you tell us about that?
Travis has three more years at NAS Jacksonville, then he plans to continue his career in education. Since this was his last deployment, I really wanted to go all out for his welcome home. My mom came down from Indiana and helped me with the yard. We planted nice flowers and had a banner made with photos. The kids helped, too. We put flags in pots and our son helped pick out the balloons to decorate with.
What do you feel is the hardest part about deployment for your family? Were there any special traditions that you carried on while your husband was away?
I'd say communication was always the hardest part for us. Even using Skype, keeping the day-to-day connection is difficult. It's easy to get in our own routines and then the conversation pretty much stays the same each day we'd talk.
We had a 30 day countdown until Travis' arrival day. The kids got a Hershey's Kiss "from Daddy" each day until his arrival. We have always had Friday night movies and pizza in the living room, and we continued that while Travis was away
What do you try most to not take for granted now that Travis is back home?
We try hard not to take touching or hugging for granted. We really miss that when he's gone.
What does your family enjoy doing most for fun family time together?
Just spending time together in general. We like to have our family come to visit us pretty often. We all go down to Disney World and Universal Studios. Travis really craved pizza when he was gone, so we eat a lot of pizza these days.
Photo courtesy Kayla Hamilton
The Hamilton Family