By Martie Thompson
editor@floridanewsline.com
Terri Kinder is a native Floridian who lived in many different states and overseas as an Army kid, but always knew she would come "home" to this state. She met and married her husband, Mark Kinder, in St. Petersburg and then the two of them went to away to college at Middle Tennessee State. Mark Kinder, son of a Methodist pastor, was also accustomed to moving around a lot. The couple continued the trend by living in several different states while Mark moved up the corporate ranks in the water treatment industry. He was responsible for training employees about water treatment and decided he could train himself and his wife to open their own business. In 1987, they chose Jacksonville for their return to Florida — because they knew the city had hard water.
The Kinders started Affordable Water in 1989 and never looked back. Terri Kinder recalls starting the business with a Honda Civic hatchback that they would use to deliver the salt needed for the water systems and a credit card. She said it took them four years to pay off the credit card and they are now happy to have all their hard work come to fruition. They opened the business about the same time the Jacksonville Jaguars became an NFL franchise and were pleased to count several players as customers.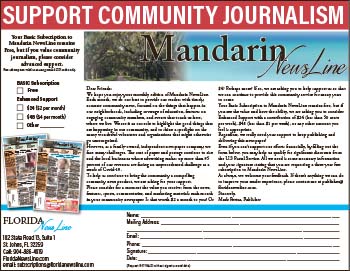 The couple has lived in Mandarin the entire time, moving from an apartment on Claire Lane to a home in Julington Forest, to a home they built on Julington Creek. They have one son, Adam, who works with them in the business in sales, and three grandchildren.
What do you like most about living in Mandarin?
I like everything about it … the weather, the trees, the sunsets on Julington Creek. It feels like we live in the country, but we are nearby to lots of activities. We just recently saw the Air Show from our boat in the St. Johns River.
2) What do you think is your greatest accomplishment?
Definitely being a parent. That's why I stayed home and didn't work while our son was young, until he started school.
3) What do you enjoy doing in your spare time?
I'm very active in my church, Emmaus Church near Kernan and Beach boulevards. I also volunteer with Foster Closet, the organization that works with foster families to provide clothing for foster children. I volunteer to babysit foster children while the foster parents have an evening out. I am so in awe of what foster parents do. I know I couldn't do it, so I am happy to help support them in this way. Also, Mark and I are original season ticket holders for the Jaguars.
4) What is the best and most challenging aspect of owning your own business?

The best part is that our office staff is like a family. Some of our employees have been with us for many years. Also I love our customers. Some come to the office and have lunch with us or bring us cookies. We go through the happy and the sad parts of their lives. The most challenging part is that the business consumes so much of your time. We wear so many different hats and everyone does a lot of things not necessarily in the job description.
5) Where do you see yourself in 10 years?
I see myself doing more volunteer work. I'd like to work for Guardian ad Litem. I'd also like to travel more … perhaps Mark and I can take our dream trip to Alaska!
Photo courtesy Terri Kinder
Terri and Mark Kinder