By Cassy Fiano-Chesser
mail@floridanewsline.com
Debbie Kane is well-known to Crown Point Elementary School parents, where she has worked as a crossing guard and currently works in the front office of the school. Originally from New York state, Kane has lived in Mandarin for more than 20 years, and has come to love life on the First Coast.
Q: What brought you to Jacksonville?
A: I'm originally from upstate New York, and I moved here 27 years ago. My kids were born here and we've lived in Mandarin the whole time. My husband got a job down here; we're from a small town and there weren't a lot of opportunities there. We looked all over for the right place to live, and found a house right around the corner from his job. We just really lucked out.

Q: What got you started working at Crown Point?
A: All of my kids went there, and I started by volunteering. At one point, I started being a crossing guard for the school. When one of the secretaries for the school was ready to retire, they suggested that I apply for the job, so I did. I got the job, and stopped being a crossing guard and started working in the office. This is my third year working inside in the front office. It's great. I love it.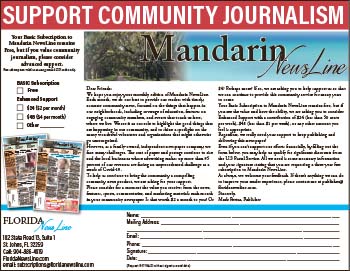 Q: What is your favorite thing about your job?
A: We're like a big family. We all get along. The principal is great, we all really like each other, and it makes the job easy to be happy and friendly to people. I like the kids and the people I work with.

Q: What do you like to do for fun?
A: I'm kind of a crafty person. I like to do sewing projects and craft projects. When I get down time, I also enjoy yoga. My boys play lacrosse, so that takes up a lot of time, but I love watching them play. My oldest is in college and playing for Embry-Riddle, so when he has home games, we go. My youngest is actually on a couple of travel teams. We really enjoy it. And I am pretty passionate about lacrosse myself, too. I don't know what I'm going to do when my boys aren't playing anymore. I help with the boosters at the high school lacrosse team, and I don't even have kids playing for the team right now.

Q: What is your favorite thing about living in Mandarin?
A: I find it hard to pick a favorite. I really enjoy the area; there's a ton of stuff to do. I have a comfort zone of about a five-mile radius; if I have to go outside of that, I usually won't do it. We're close enough to the beach, but we don't have to deal with the traffic. I've never lived anywhere else in Jacksonville, so I can't really compare it, but I have been happy here. It has everything that I need.
Photo courtesy Debbie Kane
Debbie Kane