By Martie Thompson
editor@floridanewsline.com
Paula Michaud has faced a lot of health obstacles the past few years, and she credits her caring and supportive neighbors as well as the LiveStrong program at the YMCA for getting her through to where she is today. Originally from Maine, she moved to Florida after graduating from high school to "seek [her] fortune." She moved to Jacksonville and has worked in the graphic design/media/print production industry ever since. She has lived in Mandarin for the past 23 years. In 2019, a trip to the hospital for a suspected kidney stone turned into something else — a Stage 3 ovarian cancer diagnosis. With no family locally, she relied on neighbors for everything from food delivery to transportation to doctor appointments. Earlier this year, she was part of the inaugural class of the Y's LiveStrong program for cancer survivors. This free program, funded by donations, helps adult cancer survivors reclaim their health and well-being following a cancer diagnosis. She credits this program with getting her independence back.
Q: Tell us about your initial cancer diagnosis.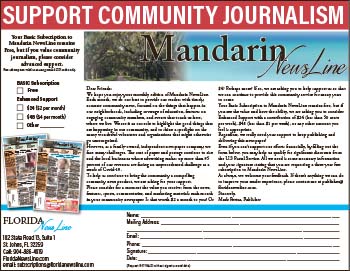 A: In December 2019, I was working for Electronics for Imaging (EFI), a worldwide software company, as a business development manager. I had a history of kidney stones and on that day, I drove myself to the hospital because I was sure I had another one. The CT scan showed Stage 3 ovarian cancer. I left the office that day and never went back, because shortly afterwards, COVID hit and the local office, like so many others, was affected.
Q: How did your neighborhood support you during your treatment?
A: I had chemo treatments and then in May 2020 I had my cancer surgery. Throughout it all, my neighbors in Southern Villas stepped up. I actually was in quarantine even before COVID due to the chemo and lots of neighbors reached out and helped. There are three nurses in my neighborhood and they would give me my shots. Other families brought food and one neighbor drove me to my many appointments. Another neighbor helped me walk and many neighbors helped financially by donating to a GoFundMe page set up by my work colleagues. Some friends from Ponte Vedra came over and mowed my lawn weekly. Everybody did something. I was completely blessed — and this is why I moved here, for the loving and caring community.
Q: How did you find out about LiveStrong?
A: I also had to have kidney surgery after my cancer surgery and I was at a low point. I knew this wasn't "me" and I had to rise up. A friend sent me an email about the Y offering free yoga classes for cancer patients. When I started, I could not get up off the floor without pulling up on furniture. I completed the 10-week course and I don't think I could have done without it. Then the instructors at the Y told me about a new cancer survivor fitness program they were starting and asked me if I'd like to sign up. I said, "Absolutely!"
Q: Can you tell us about LiveStrong and how you benefited from it?
A: The program is offered to 12 people at a time with three trainers in each class. I was a member of the first class. The classes are 90 minutes long and meet two times a week for 12 weeks. We worked on balance, focus, cardio and strength. It was a game changer! I'm so happy to have completed the course in April. I can now get in and out of a hot bath by myself. My blood pressure and endurance have improved. You just want your life back … you want to do your own housework and go with friends and family to events without being exhausted. It's easy to take these things for granted until you can't do them.
Q: What's next for you?
A: The second LiveStrong class just started and I was invited back to give advice to the participants. I told them, this takes time. You can't do it all at first, but keep at it. You need to learn how to use the equipment correctly and you need to learn how to rest and stretch.
I'm not quite retirement age, so my future plans include spreading the word about LiveStrong and I hope to go back to work in some capacity by the end of the year. I was 21 months cancer-free until February 2022, when a small amount of cancer returned. I'm on a daily pill regimen and a six month plan. I hope to be on the one year plan soon!
[Editor's Note: Visit https://fcymca.org/programs/healthy-living/livestrong-at-the-ymca/ for more information about the LiveStrong program, including how you can make a donation to support the program.]


Photo courtesy Paula Michaud