By Cassy Fiano
mail@floridanewsline.com
For Richard Dickson, music is a way of life. He worked as a high school band director at Wolfson and Paxon high schools, and played French horn for the Jacksonville Symphony Orchestra. When he moved to Gainesville, he continued teaching music, directing the Gainesville Civic Chorus and Orchestra, as well as the Gainesville Community Band. He then relocated to Amelia Island, serving as the executive director for the Amelia Arts Academy and directed the Amelia Island Community Chorus.
He opened the Northeast Florida Conservatory in Mandarin, a non-profit organization that offers educational music programs, when he noticed that there was a void in Duval County Public Schools when it came to music and the arts.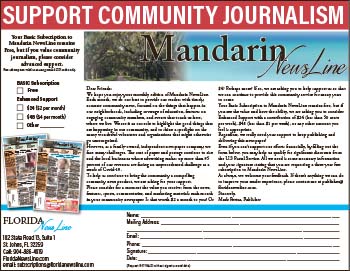 Five years later, they have more than 100 students, a large concert band and orchestra, a jazz band and a theater program. It has become one of the largest components of the school, and he says it is the only theater north of Orlando to have a live theater orchestra playing during their shows.
They also have a philanthropic outreach, Laura's Friends, and his inspiration came from a personal place — it was named for his daughter, a third grade teacher and musician who was killed in an accident. Through this program, free music lessons are offered to underprivileged children who would not otherwise have access to music or the arts.
What is your favorite thing about music?
Music is a peacemaker. It is something that can communicate where words fail. It inspires people. It is a vehicle for all of the emotions. And I think it's as important as any subject that's taught in school, and should be part of any person's life.
Who has had the biggest influence on you?
Parents and teachers. Not one in particular, because I've been lucky, and very fortunate, to have so many good teachers and excellent parents.
Do you have a favorite piece of music to play?
No, that's like asking which is my favorite child. Somebody asked me which is my favorite show to produce or direct, and I wasn't the original one to say this, it was a famous actress, although I forget who it was. The answer is the same: whichever one I'm doing at the time.
What benefit do you think music has for adults just learning to play?
It's a wonderful social vehicle. It enables people to communicate with others. It's a way to do something with other people, to do a project together. That's the most fun of music — playing with other people, although you can do it alone as well. I also know, because there are studies on this, that especially for people getting older, it has therapeutic benefits. They have discovered that the seniors who are involved in the arts and music in particular need fewer medications and doctor visits, and better social life. It decreases the risk of Alzheimer's and things that happen with advanced age. It's just as important to have music as a part of your life as an adult as it is for child.  
What is your favorite thing about living in the North Florida area?
The weather! I mean, this past winter, the rest of the country must have had "I hate Florida" month because we've had such nice weather. First of all, it's Florida, and it's close to the ocean, but I guess the weather is probably the best reason.
Photo courtesy Richard Dickson