By Martie Thompson
editor@floridanewsline.com
Theresa Rooney is the new (since August) branch manager of the South Mandarin Branch Library, but it's not her first manager position. She previously served as branch manager at the Beaches and University Park branches; prior to that, she was an attorney who worked for the Office of the General Counsel for the City of Jacksonville. Her career change is really not that far-fetched — the reading and research she liked the best while practicing law transferred easily to her role as a librarian. Theresa has two daughters who live locally and four grandchildren, ranging in age from 18 month to eight years.
Q: How did you come to live in Jacksonville?
A: I grew up in Baltimore and graduated from law school in Vermont. A friend I went to school with was from Jacksonville and I visited his home here. I fell in love with the river and the beach and the climate — and 38 years later, I'm still here!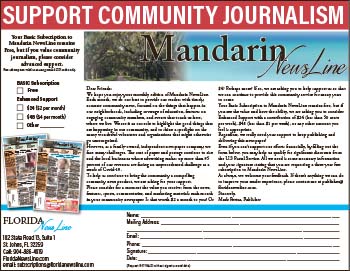 Q: What made you decide to go to law school?
A: Growing up, I was a huge reader and always wanted to be a librarian, but my first year of college, I took a required class on constitutional law and really liked it, so I changed my major. You definitely need to like to read if you're going to go to law school.
Q: How did you come to work for the Jacksonville Public Library?
A: While I was practicing law in Jacksonville for the Office of the General Counsel, one of my clients was the Board of Library Trustees. I became friends with the library director and told him about how, prior to law school, my dream job was to be a librarian. I enjoyed my work with the library board more than anything and over time I started thinking, "How can I make this happen?" I retired from practicing law in 2003 and took a year off to try to figure out what I wanted to do. At the end of 2004, 50 new library associate positions were created as part of the expansion due to the Better Jacksonville Plan and I was able to get one of them. I worked at the main library downtown and I loved it: I did research and I worked with the public to find answers to their questions. I knew I wanted to stay with the library, so I went back to school for my master's degree (a mostly remote program from the University of South Florida) in order to be eligible for advancement. I enjoyed my time practicing law and I felt like I did everything I wanted to do there. Going to grad school and working on my library degree was the most fun and best thing that ever happened to me.
Q: What is your favorite book?
A: That's kind of like asking a parent to name their favorite child! But I would say "Charlotte's Web," by E.B. White. I've read it many times and it speaks to me on many levels. I have a vivid recollection of my fourth grade teacher reading this book to the class and going home and telling my mother we needed to go buy the book because the teacher was only reading one chapter a day and I needed to see what happened!
Q: Can you give us a general South Mandarin Branch Library update?
A: I keep hearing from people who say they didn't know we are open, but we've been open since the end of September with reduced hours for patrons. The library is open for browsing or patrons can put holds on books and we offer curbside service. Mandarin residents love their library and they are gradually coming back.
Photo courtesy Theresa Rooney
Theresa Rooney