By Sandy Arpen
mail@floridanewsline.com
Every year since 2003, Mandarin Museum & Historical Society has honored a person who has made significant contributions to the community — like Miss Agnes Jones did — by presenting the annual Miss Aggie Award.
The 2020 Miss Aggie Award was unique because it was the first time two people were selected. It was also unique because a COVID-19 pandemic was taking place and Miss Aggie Day 2020 had to be cancelled since we could not bring a crowd of people together. Finally, on May 22, 2021, Miss Aggie Day 2020 was celebrated at the historic Mandarin Store and Post Office.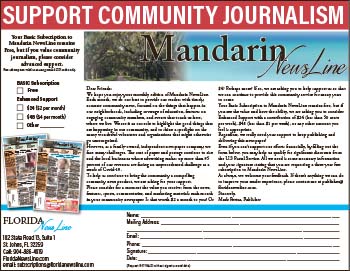 The recipients of the 2020 Miss Aggie Award were long-time residents Sam Folds and Wanda Bosworth. The awards were presented by Mandarin Museum & Historical Society vice-president and great niece of Agnes Jones, Karen Roumillat.
Folds was born and raised in Mandarin and has served clients in Mandarin through his real estate business for more than 40 years. He has been a lifelong member of the Episcopal Church of Our Saviour and a Charter Member of the Rotary Club of Mandarin, where he has served in many roles. He has always been an active advocate for the community by speaking out about and supporting all efforts to preserve the integrity of Mandarin's landscape and history.
Bosworth has made volunteering in the community her profession. Since 1986 she has served through her involvement, support, and leadership in the Mandarin Community Club, Mandarin Garden Club, PTAs and activities of Mandarin Middle School and Mandarin High School, Mandarin Women's Club and many other organizations in Jacksonville as well.
Both award recipients have given selflessly of their time, resources and talents. They epitomize the characteristics that Miss Agnes Jones was known for and for which this award is given: a deep love of Mandarin, generosity to all, and service to the community that is above and beyond.
The 2021 Miss Aggie Award will be presented at the 21st annual Winter Celebration, scheduled for Dec. 4 at Walter Jones Historical Park. This year Orren "Bo" Phillips will be honored posthumously, as he died in a tragic accident in September 2020. Phillips made huge contributions to Mandarin through his many major projects at Walter Jones Historical Park, including moving and renovating the Losco Winery, retrieving and renovating parts of the Wheeler Sawmill, erecting a sugar cane grinder, and many other projects than can even be named.
Past Miss Aggie Award recipients were:
2003: Kate Monson (posthumously)
2004: Karen Roumillat
2005: Rhonda Reese
2006: Mary Ann Southwell
2007: Mary Kaminski and Bonnie McNulty
2008: Jane Cooksey
2009: Susan Earnhart
2010: Alice Stanley
2011: Elizabeth "Betty" Wolfe
2012: Virginia Barker
2013: Emily Lisska
2014: Linda Levin
2015: Sandy Arpen
2016: Sarah Bailey
2017: Susie Scott
2018: Don Bowden
2019: Lynn Cuda
Sandy Arpen is a volunteer with the Mandarin Museum & Historical Society. Visit www.mandarinmusem.net for more information about Mandarin's history and Mandarin Museum & Historical Society information.
Photo courtesy Sandy Arpen
Wanda Bosworth, Karen Roumillat, and Sam Folds.