By NewsLine Staff
mail@floridanewsline.com
Writing the brand-new book "Images of America: Mandarin" was a labor of love for Mandarin resident Susan Ford. A "labor of love" is something one works hard for, freely and without the goal of personal benefit or gain. This book is a gift to the community of Mandarin by someone who has been deeply involved with the founding and development of the Mandarin Museum & Historical Society for more than 30 years. All proceeds from its sale help the Historical Society fulfill its mission to "preserve and share the stories of Mandarin's history, culture and natural resources by providing engaging programs that educate, entertain and inspire."
Having been intrigued by "Mandarin on the St. Johns" by Mary Graff and inspired by her friend and mentor, historian Jean Morrow, writing this book has been a long-time dream for Ford. Finally, during the isolation of the pandemic, she started to write. With the assistance of two other Mandarin Museum & Historical Society volunteers, Sandy Arpen and Leann Arndt, this dream finally came to fruition.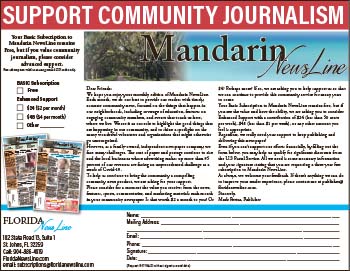 "Images of America: Mandarin" is part of the popular series of community-oriented books published by Arcadia Press. The book has more than 200 photographs with captions that tell bits and pieces of Mandarin's history. Most of the photos are part of the Mandarin Museum & Historical Society archives, but many were also shared for the project by individuals and families.
The book is now available at the Mandarin Museum, which is open on the first and third Saturday of each month from 11 a.m. – 2 p.m., at Walter Jones Historical Park, 11964 Mandarin Road.
Visit www.mandarinmusem.net or contact Mandarinmuseum@bellsouth.net or call (904) 268-0784 for more information.

Photo courtesy Mandarin Museum and Historical Society