By Martie Thompson
editor@floridanewsline.com
Advances in technology will impact the lives of every American, since it is widely believed that nearly very job of the future will require a basic understanding of math and science. Teachers are always seeking ways to engage children with real life applications of classroom skills, particularly in the areas of science, technology, engineering and math, the so-called STEM.
Katie Vogel is one of those teachers. Looking for an additional challenge for her sixth grade son Ryan Vogel, this past fall the Mandarin homeschooling mom agreed to sponsor a Sea Perch middle school underwater robotics team. Sea Perch is an initiative started by the US Navy's Office of Naval Research in partnership with the Massachusetts Institute of Technology and other organizations to introduce students from elementary school through college to science, technology, engineering and math. Teams can be formed in an in-school or out-of-school setting.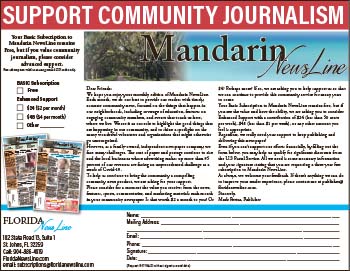 The Mandarin team called themselves the H20Bots and met in Vogel's garage on Sundays at 4 p.m. starting in October 2015. The first task was to assemble the remote operated submarine kit. Videos and written instructions provided by Sea Perch explained how to utilize PVC pipe to form the robot's outer frame and pool noodles for floatation. The control box and circuit board needed to be constructed.
"The boys learned about buoyancy, Archimedes Principle and soldering … as well as un-soldering," said Vogel. "Parents spent time with their kids each week, all working together on this project."
Although Vogel had initially been assured by organizers that Sea Perch did not have a competition, it turned out that one did exist. Captain Dave Gombas, Commanding Officer of the Southeast Regional Maintenance Center, had witnessed the success of a Sea Perch competition in the Northeast, so he tasked his employees, Chuck Hayes and Crystal Taylor-Brady, to start a Sea Perch competition in Jacksonville.
With the help of more than 80 volunteers, the first annual Greater Jacksonville SeaPerch Competition was held on April 2 at Cecil Aquatics Center and the H20Bots were one of 31 teams to compete. Teams first interviewed with the judges and then took to the pool for two different challenges.
The first challenge was an obstacle course; teams competed against the clock to race their robot through a course of five small hula hoops. H20Bot driver, Price Drawdy, made no errors and Logan Myers, the tender, ensured that the cable attached to the robot had just the right amount of slack to allow the vehicle to complete the course and then return to base without tangling. Drawdy and Myers completed the course in their team's fastest time ever, two minutes and five seconds.
Next was the orbs course, which required driver Ryan Vogel to maneuver the robot in the pool to gently push a lever to release wiffle balls from an underwater pod. Once released, the balls floated to the surface where Vogel and tender Alex Sobol worked together to collect the balls and take them to a specified area for additional points — all within a time limit of 10 minutes.
The H20Bots placed second overall in the middle school division. First place team Hetwiler Halibuts from Lakeside Junior High School as well as first place team in the high school division, Team LAS-R from Frank H. Peterson High School, qualified to advance to the national competition held in Baton Rouge, La., in mid-May.
For more information about Sea Perch in Jacksonville, contact Chuck Hayes at Charles.s.hayes@gmail.com or (904) 652-7767. Visit www.seaperch.org for more information about the program.
Photos courtesy Katie Vogel
Chuck Hayes, one of the organizers of the Greater Jacksonville SeaPerch Competition; co-coach Julie Myers, Thomas Read, Ryan Vogel, Logan Myers, Price Drawdy, Alex Sobol, Coach- Katie Vogel. In dress uniform is Commanding Officer of SERMC, Capt. Dave Gombas.  
   The ROV has two horizontal thrusters and one vertical thruster.  It uses cut up pool noodles for buoyancy.
   The H20Bots practice on the orbs course before the competition.