By NewsLine Staff
mail@floridanewsline.com
The Jacksonville Chapter of the National Society Daughters of the American Revolution (DAR) participated in the national society's annual Day of Service and collected personal hygiene items for the Women's Center of Jacksonville. More than 40 members participated and 60 individual personal pouches were assembled. Additionally, extra products were also donated totaling more than $700 of personal hygiene products donated.
The National Society Daughters of the American Revolution (DAR) was founded on Oct. 11, 1890. One of the four founders, Eugenia Washington, gave focus to the organization by stating, "We want a society founded on service." The DAR has been involved with community service right from the start. The society raised funds to support the completion of the monument for Mary Washington (George Washington's mother) in Fredericksburg, Virginia. During World War I, the DAR helped finance and promote Liberty Loan war bonds. In 1968 they began Service for Veteran-Patients and most recently during the COVID-19 pandemic, DAR members nationwide made and donated thousands of masks.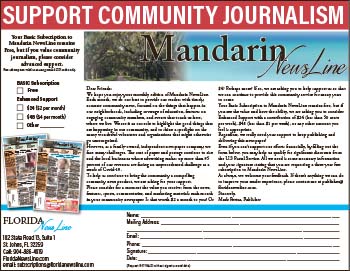 The Jacksonville Chapter was founded in 1895, just five years after the national society, and was the first DAR chapter in the state of Florida. The chapter has been involved in community service in Jacksonville at the local level since that time. In 1902 the chapter held fundraisers to finance a public water fountain for the city, which was desperately needed after the Great Fire of 1901. In 1924 the chapter erected a marker at Mayport dedicated to Jean Ribault. And this year, the chapter focused on supporting the Women's Center.
Jacksonville Chapter member and Women's Center Board member Earlene Schanze said, "The Women's Center serves about 7,500 women a year. They will be most grateful for the donation as some women come to the center with nothing and needing personal care items."
Visit www.JacksonvilleDAR.org to learn more about how DAR supports the community and/or membership.
Photo courtesy Carol Curtis
The Jacksonville Chapter Officers with a wagon full of personal care product donations for the Women's Center of Jacksonville. Pictured are Carol Cochran, Linda Moffitt, Connie Taylor, Glenda Kelsey, Chapter Regent Betty Reed, Sandy Thompson, Jurelle Stanton and Barbara McGriff.