By Paula Suhey
mail@floridanewsline.com
When will the Mandarin Museum be open again?
First it was the pandemic and the world stopped; however, one thing didn't stop and that was the expansion and renovations that had been planned at the Mandarin Museum. Soon, there will be a dedicated room for the Maple Leaf story and artifacts. The exhibit space in the museum has been completely renovated to include new designs of some of the old exhibits and a brand-new permanent exhibit "The Untold Stories of Black Mandarin." Additionally, we will have an Art Gallery again to exhibit Mandarin artists.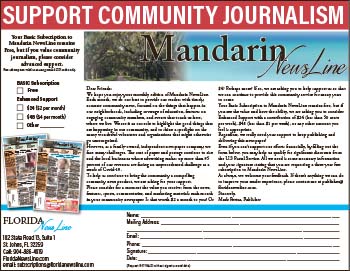 Since early 2021 the four historic buildings on the grounds of Walter Jones Historical Park have been open two Saturdays each month from 10 a.m. – 2 p.m. The museum's volunteers have been very faithful, and they are so appreciated. When the museum reopens, the plan is to have volunteers in the main exhibit area and the schoolhouse each week and have the other buildings open on a monthly basis.
As soon as we have a date for the Grand Reopening, we will be shouting it from the rooftops. That will mean that we will need more volunteers!
What does a volunteer do? There are many areas one can share their time and talents, but the primary need is for docents. A person who enjoys history and talking about it makes a great docent, also known as a museum guide. Docents greet guests and tell the stories of Mandarin's rich history.
"Volunteering for me has always been about sharing the past," said Losco Winery volunteer and Mandarin Museum & Historical Society member, Roger Sallas. "My biggest kick is to be able to share a history lesson and hear the visitor say 'That's really cool. I didn't know that.'"
"I love to volunteer because it is a way to give back to our community," said Cathy Barnwell who along with her husband, George, is a regular volunteer at the 1876 barn. "It's great to watch visitors' expressions when we show them artifacts. It's a wonderful experience as a volunteer to talk and listen to our visitors in a relaxed setting and it's a great way to build community."
Mandarin has provided beauty and a rich heritage, and we believe volunteering at the Mandarin Museum & Historical Society gives one that opportunity to give something back and to build a greater sense of community. It is rewarding and can be fun.
Interested in becoming a volunteer? Contact Paula Suhey, volunteer coordinator, Mandarin Museum & Historical Society at mandarinmuseumvolunteers@gmail.com.
The Mandarin Museum & Historical Society is located at 11964 Mandarin Road in Walter Jones Historical Park. Visit www.mandarinmusem.net for more information about Mandarin's history.
Photo courtesy Mandarin Museum & Historical Society.