By NewsLine Staff
mail@floridanewsline.com
Lynn Cuda was the recipient of the annual Miss Aggie Award, presented by the Mandarin Museum & Historical Society on March 23 as part of the annual Miss Aggie Day at the Historic Mandarin Store and Post Office.
"It's humbling, that's for sure," Cuda said.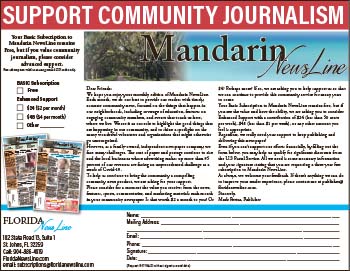 Cuda said she was nominated for the award by Mary Kight, a co-volunteer of hers at the Mandarin Community Club.
The Mandarin Museum & Historical Society hosts the annual Miss Aggie Day each March to honor a person for service to the community of Mandarin in the areas of business, civic, educational, or charitable accomplishment. This award is named in honor of Miss Agnes Jones, the daughter of Walter and Edith Jones. After the death of her father in 1928, Agnes served as Mandarin's postmistress and proprietor of the Mandarin Store and Post Office until 1964. She was also the last member of the Jones family to reside in the family home, which is located in Walter Jones Historical Park.
"Miss Aggie," as she was fondly called, was known for her contributions to the community through her many acts of kindness and generosity to all. Miss Aggie Day has been celebrated since 2003 to honor Miss Aggie and the contributions of someone who exemplifies a similar love for the community.
The 2019 award ceremony featured the return of a record number of Miss Aggie award recipients — eight — from years past. Cuda said it was an honor to be included with all these people who had done so much for the community over the years.
Cuda has served the community continuously for more than 30 years through extensive and dedicated volunteer work, especially through and on behalf of the Mandarin Community Club and the Ramsgate Homeowners Association.
"I certainly don't aspire to be in the spotlight," Cuda said. "I'm sure none of the Miss Aggies do. But it is always nice to be recognized and thanked for what you do."
Photo courtesy Mandarin Museum & Historical Society
A record nine Miss Aggies attended the 2019 award ceremony: Virginia Barker, Karen Roumillat, Susie Scott, Emily Lisska, Lynn Cuda, Don Bowden, Sandy Arpen, and seated, Sarah Bailey and Betty Wolfe.
Miss Aggie Award Recipients
2003: Kate Monson

2004: Karen Roumillat

2005: Rhonda Reese

2006: Mary Ann Southwell

2007: Mary Kaminski and Bonnie McNulty

2008: Jane Cooksey

2009: Susan Earnhart

2010: Alice Stanley

2011: Elizabeth "Betty" Wolfe

2012: Virginia Barker

2013: Emily Lisska

2014: Linda Levin

2015: Sandy Arpen

2016: Sarah Bailey

2017: Susie Scott

2018: Donald Bowden

2019: Lynn Cuda