Q: With school starting, can you share some of the district's plan to address the shortage of teachers?
A: Superintendent Greene has communicated her plan to parents and one of the things we are doing, as we did last year, is having district staff serving as substitutes. I was actually scheduled to substitute the first day of school at Crown Point Elementary, but since they were fully staffed, I helped out by welcoming everyone back inside the building. I have commitments on my calendar for the remainder of the month of August to substitute at Mandarin Oaks, Greenland Pines and Twin Lakes Academy Elementary. I'm available to do whatever they need.
Q: Can you tell us about the new metal detectors that will be installed in Duval County high schools?
A: The school board voted in mid-August to spend more than $1 million to put metal detectors in all of our high schools. These are much more efficient than traditional metal detectors and are the type used by Baptist Health, the Florida Theatre and Walt Disney World. Multiple people can walk through them at a time and backpacks can be carried. A few years ago, there might have been resistance to metal detectors, but now they seem to be accepted as everyone wants to make our schools safe. I don't think they will make the school seem any less welcoming and shouldn't hinder students' entrance to the building.
Q: What other steps is the district taking to help ensure student and school safety?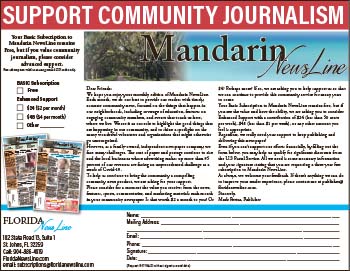 A: In August, a safety event was held at Atlantic Coast High School. More than 300 parents signed up to attend this event and Chief Gregory Burton, head of our school police, shared protocols and safety measures such as Raptor, an app that every teacher has on their phone that can call for a school lockdown.
I also encourage the entire community, not just parents, to download the Fortify Florida app (getfortifyfl.com), which will allow people to identify and bring to attention any concerns at any of our schools. It's a good way to have more eyes and ears in the community.
Q: What's new with the district's Career and Technical Education (CTE)?
A: We have exciting news: CTE is expanding at Atlantic Coast High School, which is adding a medical academy and a teacher academy. They will join the existing Engineering Academy and the Computer Technology Academy. I'd like to remind everyone that Mandarin High School has the VyStar Academy of Business, the partnership with Embry Riddle University which allows students to be certified in the use of drones, and the Mandarin Medical Academy.
Also in an effort to expand CTE, this year's eighth graders will be first to go through Duval Ready, which is a diploma certification for students who want to go directly to the workforce upon graduation. This year's seniors can fast track the program to get the designation and all ninth through 11th graders will have an abbreviated course.
Q: What else do you have to share with District 7?
A: We have the third Farm Share food distribution event that has been hosted in District 7 coming up on Sept. 24. It will be held at Mandarin Oaks Elementary, 10600 Hornets Nest Road, beginning at 9 a.m. I am partnering with Mandarin City Council member Michael Boylan for this event.
Also, save the date for our next Chat with the Superintendent, which will be held on Oct. 6 at 6 p.m. at Greenland Pines Elementary School.
Q: How can our readers contact you?
A: They can email me at HersheyL@duvalschools.org or call me at (904) 390-2375.