Q: Can you give us a rundown of the Town Hall meeting hosted on April 15?
A: We had a good turnout, about 70 people via Zoom. People submitted questions in advance and we were able to cover a lot of material. We heard a presentation from a representative from the mayor's office about the jobs bill and Nat Ford of JTA discussed the decision to utilize the downtown Skyway to extend out to the Brooklyn neighborhood as well as to the stadium. A Public Works department representative discussed the questions we received regarding the City of Jacksonville' investment in providing more money towards drainage projects in Mandarin.
Q: What update was given regarding the traffic situation in Mandarin?
A: This was one of the major areas of concern, based on the number of questions and comments about the excessive speeds being driven in neighborhoods as well as along roads like Loretto, Brady, Flynn and Losco. Lt. Shannon Hartley is the JSO Chief of Traffic East Division and he reported on what he called a recent "intense traffic deployment." Over a two week period, officers issued more than 200 traffic citations and gave out more than 80 warnings to speeding motorists. The interesting part of this was that about 70 percent of those tickets were written to Mandarin residents, different from the general perception that they were people from out of the area using roads like Scott Mill and Beauclerc as a "cut through" to avoid traffic on San Jose Boulevard. So, we need to encourage our own neighbors to be aware of their speed when driving.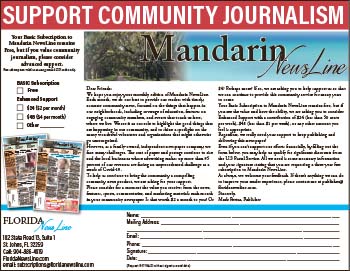 Q: Were attendees able to make suggestions at the Town Hall meeting?
A: Yes and one constituent had what I thought was a good idea. They suggested adding another lane on southbound San Jose Boulevard to enter the Buckman Bridge to help with traffic back up. I will take this suggestion to the North Florida Transportation Planning Organization (TPO) for consideration.
Q: Is there any relief in sight for the delays in waste pickup in Mandarin?
A: David Searcy with Waste Pro told me that the challenges they are facing to provide timely service are hindered by their difficulty in recruiting, training and maintaining workers. He has a number of folks going through training at this time and is hoping there will be improvement in the next month or two.
Q: What is the latest on the pickleball courts at William Anderson Memorial Park?
A: The pickleball courts should be ready for play in May. We are also looking to put in some low voltage lights to broaden usage of the courts without impacting nearby homes.
Q: What else would you consider hot topics?
A: First is the old Village Inn building on San Jose Boulevard. An application has been filed with a proposal for this to become a sports bar called "Time Out." It requires an exception for waiver of distance for serving liquor due to its proximity to some places of worship. The exception will be going to the planning commission in late April.
As an update to the proposed liquor store a bit farther south on San Jose Boulevard, as of now [April 16], there is a pending agreement between the parties involved to eliminate the proposed drive through for the liquor store and install a fence next to a nearby business.
Q: Do you have anything else to share with District 6?
A: We have another Town Hall planned for July 27. At this time, we are not sure if it will again be virtual or in person. If you missed the April 16 Town Hall meeting, call or email my office and we can provide you with a link to view the video. Also, if you are interested in receiving a summary report that I write up of actions taken by the City Council, contact my office.
Q: What is the best way for our readers to contact you?
A: Community members can email me at MBoylan@coj.net or call (904) 255-5206.