Q: Can you address the zoning exception request for the Great Heart Academy Charter School on Old St. Augustine Road, south of Greenland Road?
A: The property is properly zoned for a residence, school or church so it just requires a zoning exception. This will be reviewed by the city's Planning Department and then the Planning Commission and will only come to the City Council if there is an appeal. We hosted a community meeting about this project on April 14 with the applicant in attendance. One particular concern we expressed to the developer was we suggested doubling the car lane on the property to get cars off Old St. Augustine Road.
Q: Do you have an update on the Sissel property, on the corner of Loretto Road and Kennedy?
A: This application has been filed and had its first reading in April. It still has to be vetted by the Planning Department and the Planning Commission and then it is on the docket for LUZ (Land Use and Zoning) on May 17. The proposed project is up to 60 single family units, on lot sizes ranging from 50 feet to 90 feet wide and all a minimum of 120 feet deep. There will be a main entrance to the development off of Loretto Road.
Q: Can you give a recap of the Town Hall meeting you hosted at the Mandarin Senior Center on April 13?
A: The reaction to our new format was well received. We had a total of about 60 community members, with eight to nine to a table and each of the presenters rotated from table to table. The presenters were representatives from WastePro, Jacksonville Sheriff's Office, Parks and Rec, Florida Department of Transportation, Public Works, and me. This format allowed for better interaction between the attendees and the presenters and I believe we will continue with this format going forward. Our next Town Hall meeting is scheduled for Aug. 3.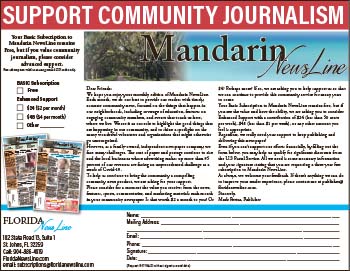 Q: What is the latest information on the resumption of curbside recycling in the city?
A: While there was some confusion at first as to what the days were for each neighborhood's respective services, I'd say overall things have gone well. With new drivers and their lack of familiarity with the area, some streets have been missed, but they will be picked up. If residents have any questions about their schedules, they can visit https://myjax.custhelp.com/app/hauler. Type in the address and the site will specify the date of the next scheduled service.
Q: Do you have anything else to share with District 6?
A: There continue to be concerns about the quality of the medians along San Jose Boulevard south of Interstate 295. I have just been informed that median improvements from the interstate south to Julington Creek Road are scheduled to begin this fall with completion scheduled for spring 2023, weather permitting.
Also, there is still active conversation with FDOT and the city's traffic engineering department regarding the timing of the east-west traffic lights on San Jose Boulevard, south of Interstate 295. We are aware that there are frequent back ups due to the signal timing.
Q: What is the best way for our readers to contact you?
A: Community members can email me at MBoylan@coj.net or call (904) 255-5206.