Q: Do you have an update on the new special committee you received permission to form from Council President Terrance Freeman that will address Critical Quality of Life Issues?
A: We had the first organizational meeting for this committee in mid-August, with 15 people meeting to talk about process and structures. Basically, each of the three working groups, one each to discuss access to healthcare, affordable/workforce housing, and homelessness, will have five meetings between September and November to answer three questions: 
What is the scope of each issue?
What is being done within the public, private and non-profit sectors to address each?
What are some of the best practices other communities have adopted to address each?
The whole committee will then provide the City Council a full report at its Dec. 11 meeting. We are relying heavily on subject matter experts for their input and recommendations on these issues. It's important to note that these issues are not unique to any part of the city; these are Mandarin issues as well.
Q: What can you share about the rezoning of the Cissell property at the corner of Loretto and Kennedy?
A: After more than two-and-a-half years of consideration, the rezoning of the Cissell property was approved by City Council. It permits up to 60 individual homes with a mix of 50 ft., 60 ft. and 90 ft. lots. There was much give and take along the way including the developer agreeing to donate the primary home on the property and $100,000 towards its relocation (within the next six months) to anyone who would be interested in relocating the home. Also agreed to was closing off the north end of Fairbanks so that future residents would not use Kennedy as well as ingress and egress lanes at the entrance of the development.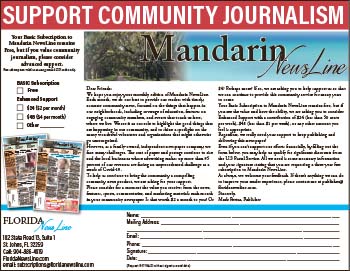 I want to thank the group of neighbors, led by Tracey Arpen, who worked with the developers in negotiating the details. While I joined four of my colleagues in voting against the approval of the rezoning I did acknowledge the necessity of creating greater single family housing inventory and that even Mandarin had to play a part in that; however, my vote against this project was in support of my constituents who were opposed in light of the traffic issues along Loretto Road.
Q: What is the latest regarding the San Jose Boulevard medians upkeep?
A: The Florida Department of Transportation (FDOT) just confirmed to me that the median improvements south of Interstate 295 on San Jose Boulevard to Julington Creek Road will commence this fall. Right now, the medians on San Jose north of Interstate 295 are not included in the scope of work, but I am hopeful that we will be able to address them soon.
Q: Do you have anything else to share with Mandarin?
A: The city's annual budget review process is currently underway and while I am not a member of the council's Finance Committee, I've sat in on their meetings as my schedule permits. I'm keeping an eye on any capital improvement projects for Mandarin.
Also, at the Aug. 9 City Council meeting, it was my pleasure to introduce a resolution honoring Dr. William Bosworth, a long-time Mandarin resident. I was honored to share this with his wife, Wanda, and family and friends. Former Council members Sharon Copeland and Dick Kravitz spoke about Dr. Bosworth's many accomplishments and their fondest memories of their times together.
Q: What is the best way for our readers to contact you?
A: Community members can email me at MBoylan@coj.net or call (904) 255-5206.