Day 12, Saturday, April 2
By Shannon Blankinship, St. Johns Riverkeeper Outreach Director
On Saturday, Day 12, the weather didn't want to cooperate for the first time on the tour and we had to cancel the flotilla from Sadler Point Marina on the Ortega to Jacksonville University; however, the rain and lightning soon subsided and we were able to make it just in time for the Science Roundtable at Jacksonville University's Marine Science Research Institute and the location of the St. Johns Riverkeeper offices.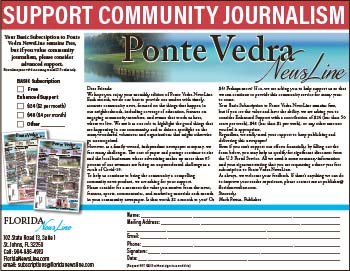 Jacksonville University scientists shared information about the latest findings from their work and research on the St. Johns River and took questions from those in attendance. The scientists and presentations included Dr. Nisse Goldberg, "Wetlands and Invasive Plants"; Dr. Andy Ouellette, "Harmful Algae in the St. Johns River"; Dr. Lucy Sonnenberg, "Investigations in the Chemistry of the Lower St. Johns River"; Dr. Quint White, "Manatees and Dolphins"; and Dr. Jeremy Stalker, "Sea Level Rise."
After these fascinating presentations and lunch, the Tour Team braved the windy, choppy conditions and headed to the mouth of the St. Johns at the Atlantic Ocean.  While this was the point where the river ends, the tour wasn't over just yet. We went back to Mayport, crossed the river on the St. Johns River Ferry and proceeded to Huguenot Memorial Park, where we camped for the evening along the St. Johns.  A beautiful sunset, family and friends and a campfire and s'mores was the perfect way to end the Day 12 of this incredible journey.
This is the 12th part of an ongoing series. Florida NewsLine is pleased to bring you a daily travelogue, along with photos and videos, submitted to us by Shannon Blankinship, St. Johns Riverkeeper outreach director.
Beginning March 22 and continuing for 13 days, St. Johns Riverkeeper Lisa Rinaman and a team of river advocates will journey the 310-mile length of the St. Johns River, from the headwaters at Fort Drum to the river's mouth at the fishing village of Mayport on the Atlantic Ocean. The overall goal of the Save the St. Johns River tour is to unite people and organizations devoted to the river's health and develop a unified approach to halting its degradation.
Photos courtesy St. Johns Riverkeeper
Heading to the Atlantic
  Dr.  Quinton White at Jacksonville University
  St. Johns River Ferry
  Sunset at Huguenot