By NewsLine Staff
Twelve diverse and very eager ladies attended the first meeting of Ponte Vedra Beach Branch Library's new Adult Coloring Club on Jan. 12.
According to Assistant Branch Manager Anne Crawford, the ladies' reasons for attending ranged from loving to color, but not wanting to be judged, to knowing the benefits of art therapy that coloring provides, to just wanting to meet new people and relax.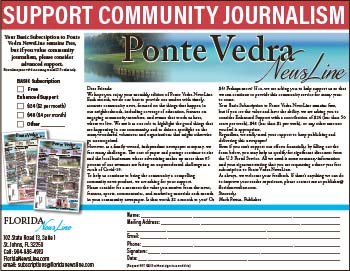 The library provided  an assortment of coloring implements and a variety of coloring pages and coloring books. To further enhance the experience, Enya music was played in the background.
"Already, after just this first meeting, we had eager patrons begging for more sessions than just once a month and all wishing to come back for our future sessions," said Crawford.
The next dates for the new Coloring Club are Tuesdays, Feb. 9 and March 8 from 10:30 a.m. to 11:30 a.m. in the library's PGA Tour Media Room. All adults are welcome.
The Ponte Vedra Beach Branch Library is located at 101 Library Blvd. For additional information, call 827-6950. For a full list of library programs, visit www.sjcpls.org/branches/ponte-vedra-beach-branch/
Photo courtesy Anne Crawford.
Patrons enjoyed the first ever session of the Adult Coloring Club at the Ponte Vedra Beach Branch Library.