By NewsLine Staff
mail@floridanewsline.com
Diane Machaby of Art 4 Charities presents a piece of artwork to Lori Anderson of Mission House, the only day facility for the homeless in the Jacksonville Beach area.
Mission House has become the newest partner of Art 4 Charities, which was recently founded by Ponte Vedra residents Terry and Diane Machaby in an effort to help nonprofits raise funds while providing quality artwork for the public. Charity organizations receive between 10 percent and 40 percent of the profit of sales of artwork by Art 4 Charities. Art showings can be held by volunteers or supporters of charities at their homes or clubhouses to raise additional funds to support a charity.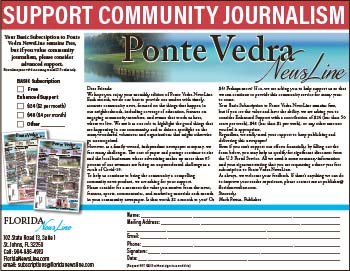 Visit www.art4charities.net for more information or to purchase artwork and photography to benefit your favorite charity.
Photo courtesy Diane Machaby