By Tiffany Merlo Phelps 
mail@floridanewsline.com
Anne Marie Moquin started Beaches Go Green shortly after watching the documentary "A Plastic Ocean" and realizing the devastating impact of plastic pollution. It inspired her to first begin speaking at schools and then ultimately led to the non-profit as a way to provide free environmental education.
"There is a huge gap in environmental education in our community. We like to break it down into manageable pieces that will reach the everyday person. We look at it as 'Do this, instead of that,'" said Moquin, Beaches Go Green founder and executive director. "It matters."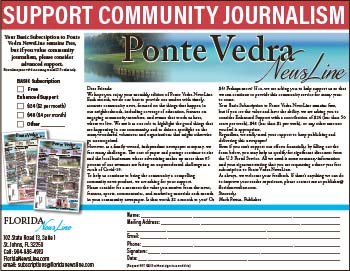 Moquin said that while the group does beach clean-up projects, Beaches Go Green focuses on education, awareness and making complex environmental issues simple so that every person has the opportunity to protect the planet.
To that end, Moquin and her all-volunteer staff spread this message by creating Beaches Go Green clubs at local schools through the help of teacher sponsors. So far, eight clubs exist (four in St. Johns County: Ponte Vedra High, Nease High, Tocoi Creek High and Bartram Trail High) with Creekside High School coming online this fall. Moquin is currently looking for a club sponsor if any teacher is interested at Creekside and Landrum Middle School.
"The student clubs help us to execute our plans and to deliver the message to their peers," said Moquin, who founded Beaches Go Green in 2018. Beaches Go Green covers from Amelia Island to Flagler Beach.
For example, the clubs will often present to elementary school children and also make videos that are then shared with younger students. Two main themes are shared: eliminating single-use items and plastic pollution in the oceans.
"We encourage everyone to choose reusable versus single use, make less waste, and we teach that there is no 'away,"" said Moquin, explaining that sometimes children grow up thinking that trash is magically sent "away" and just disappears without causing harm.
Ponte Vedra High's Beaches Go Green Club recently completed their second presentation to Ocean Palms Elementary School's fifth graders with more than 130 students and staff members participating in the event.
"This is the kind of student leadership and collaboration that we need in our community to create true change," said Moquin. "These ladies rock and knocked it out of the park. They made learning fun and educational too."
Ponte Vedra High Beaches Go Green Co-President Taylor Brown, who has been a part of Beaches Go Green since 2019, said she joined because she knew how harmful single-use plastics were to the environment, and she wanted an opportunity to influence others to make a change at the school.
"I love being co-president because I feel that my position has no limits, and I can challenge myself to be a model for the club," said Brown, a junior.
Brown said making presentations at Ocean Palms Elementary and creating videos has been fun and incredibly important to enhance environmental education for younger students.
Ponte Vedra High Co-President Veronica Shoff, also a junior, said one of her club goals is to educate members on how to make simple changes in daily life, seemingly small changes that add up over time.
"I want our members to grow, be able to go out and take action on their own and want to take part in the care for our environment," said Shoff, adding that the club has 300 members. "I have learned many valuable assets by being a part of Beaches Go Green. Not only leadership skills but also knowledge."
Another initiative that has been a big hit at schools, said Moquin, is the Reusable Bottles for Sports Program. The program connects community sponsors with local sports teams and schools to provide custom (with school logo) reusable brand stainless steel water bottles with the intention that athletes will use them over single-use plastic beverage bottles, said Moquin.
"We ask that the team/school make the bottles part of the required sports uniform and encourage their use as a team. In addition, we ask that the team/school provide water refilling stations for the bottles at practices and games," she said.
The goal is two-fold: save the environment and reduce plastic chemicals or "chemical disruptors" from entering the body. As of October 2021, 10,850 reusable water bottles have been implemented, according to Beaches Go Green.
"This program has saved a potential 1,168,128 plastic bottles from ending up in landfills. This program has really taken off as everyone sees the value in it," said Moquin.
Locally, all sports/athletes at Ponte Vedra High, Nease High and sports teams associated with the Ponte Vedra Athletic Association all participate in this program.
Lastly, Ponte Vedra High students adopted a one-mile stretch of Mickler's Landing Road to keep it clean and tidy, with Beaches Go Green providing supervision and supplies.
Shoff said the next cleanup to end the school year will take place on May 21 at Mickler's Landing Beach from 6 p.m. to 8 p.m.
"We would love to have everyone come out and join us for hopefully our best turnout yet," said Shoff.
Email Moquin at annemarie@gobeaches.org for more information.
Photo courtesy Anne Marie Moquin 
Beaches Go Green event involving Ponte Vedra High's club by the same name.