By NewsLine Staff
mail@floridanewsline.com
Lord of Life Lutheran Church in Ponte Vedra Beach, has joined the world's largest free book sharing movement — the "Little Free Library" in which organizations or individuals create mini storage units for the public to take or leave a book. It is just the second Little Free Library in the 32082 ZIP code and the first to focus on books about faith predominantly.
"The idea started with our faith book club and having a place to share the books we've read with other members of the congregation," said Sheila Kolesaire, the church council's president. "But we are here to serve our community, so we expanded our idea to make our books accessible to all."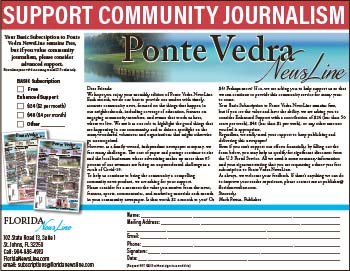 At the same time as the church was thinking of this concept, Boy Scout Landon McIntosh, 17, of Boy Scout Troop 288 approached Lord of Life about doing an Eagle Scout project there. He quickly took on this project with the help of half a dozen other Scouts to create two mirror-image libraries that look like a house and were painted white and red to match the outside of the church.
The library is mounted on the left-hand wall just inside the church. It's been registered with the Little Free Library and has its official charter sign and number #147801. You can find it on the Little Free Library website www.littlefreelibrary.org. The public is invited to drop off books about faith-related topics to be included in the library — and is free to take ones too. Lord of Life Lutheran Church is located at 276 Roscoe Blvd. N in Ponte Vedra Beach.
The church's faith book club will meet July 14 and 21 at 10:30 a.m. for an hour to discuss "Called to Forgive: The Charleston Church Shooting, a Victim's Husband, and the Path to Healing and Peace" by Pastor Anthony Thompson. Ponte Vedra Beach residents are welcome to join the discussion. Email skolesaire@gmail.com for more information.
Photo courtesy Sheila Kolesaire
Boy Scout Landon McIntosh installing the Little Free Library at Lord of Life Lutheran Church.