By Tiffany Merlo Phelps
mail@floridanewsline.com
Most of the lessons AyoLane Halusky shares on the water while kayaking could easily be applied to all aspects of life.
"If you look at the object that you don't want to go towards, you will go right to it. If you look at the object you want to go towards, you will go right to it," Halusky said on a recent kayak trip while explaining how to navigate the waters. "It is all about perspective."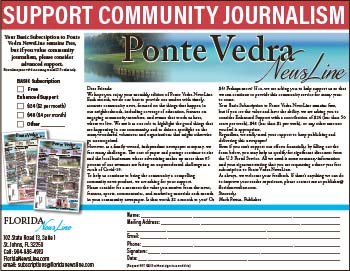 Such is life.
Halusky founded Earth Kinship Kayak Tours and Nature Education a little over a year ago, offering kayak tours and nature immersion experiences all around Northeast Florida. This includes overnight trips plus forest and spirit therapy led by Certified Forest and Nature Therapy Guide Summer Crider.
"It is my attempt to create a deep ecology and really connect to the natural world on an interpersonal level," said Halusky, who lives in Elkton.
Halusky grew up in Fruit Cove with a love of nature from an early age in part thanks to his parents, who were both Extension agents. Summer visits with his grandfather in Pennsylvania got him interested in native and indigenous cultures.
"I grew up with nature. It was always a place to learn from and to grow from," he said. "It was all about connections."
Halusky made that connection when he was 16 years old, attending one of his father's Earth Stewardship conferences. It was attended by a lot of people from the Native American community, people who expressed many of the same thoughts Halusky had been quietly feeling all along.
"I would talk to trees, and they would talk back. I was told that I was crazy," he said. "One of the nature elders said similar things. It saved my life. We have to find where we belong to prosper."
Halusky graduated from the Savannah College of Art and Design with a Bachelor of Fine Arts degree specializing in metalsmithing. After college, Halusky became an Outward Bound instructor, traveling all around the United States for eight years. Once he moved back to Florida, Halusky began working for the University of North Florida recreating its eco-adventure program and wildlife sanctuary. Later, Halusky got a job with St. Johns County in Parks and Recreation as the St. Johns County Naturalist. After that, Halusky felt a pull to start Earth Kinship.
He is most passionate about ethical ecotourism.
"Let nature come out and talk to us. That is when the magic happens," said Halusky. "Decrease the disturbance level. If you look into nature, nature will look into you. You will literally see yourself in nature."
For Halusky, ethical tourism means respecting the well-being of all species, leaving no trace in the environment, guiding with certified professionals, keeping numbers low to reduce disturbance and practicing a passive wildlife observation approach.
"In my humble and little opinion of how the world works, I see the Earth as a conscious organism," said Halusky. "When I am by myself, my interactions with the natural world involve uniting on a relationship level and on a kinship level. It is a symbiosis relationship. I am trying to bring others to it."
Crider, who owns an educational media company called "The Giving Cypress," feels the same way.
"The essence of forest bathing is sensory immersion in the ambience of the forest. We walk slowly and notice things. We feel the touch of the breeze on our skin; we notice the intricate details of a flower or a beetle, take in the sounds of the creek or ocean and the movement of trees in the wind," said Crider, who is deaf. "Out in nature, if we really pay attention and slow down to its pace, we will find that it recalibrates our soul and helps calm us, opening up awareness about our bodies, mind and heart."
Back on the water with Halusky, there is a point on a kayak tour when he will encourage a "quiet sit." No phones. No talking. Just take a breather to sit in observance of the environment. It is a pause that isn't easy for everyone.
"People usually take the first five to six minutes to stop running through things in their mind. The next seven to eight minutes they start to notice the wind, the colors and the sounds," said Halusky.
At the end of the kayak trip, Halusky will ask how customers felt before and after the expedition.
"Most will say 'More aware' or 'I feel calm'," he said.
Mission accomplished.
[Author's note: Visit www.earthkinship.us for more information.]
Photo courtesy AyoLane Halusky 
AyoLane Halusky on a recent tour.